Doorman gives fond farewell to Vauxhall
Posted on February 8, 2018 by Vauxhall Advance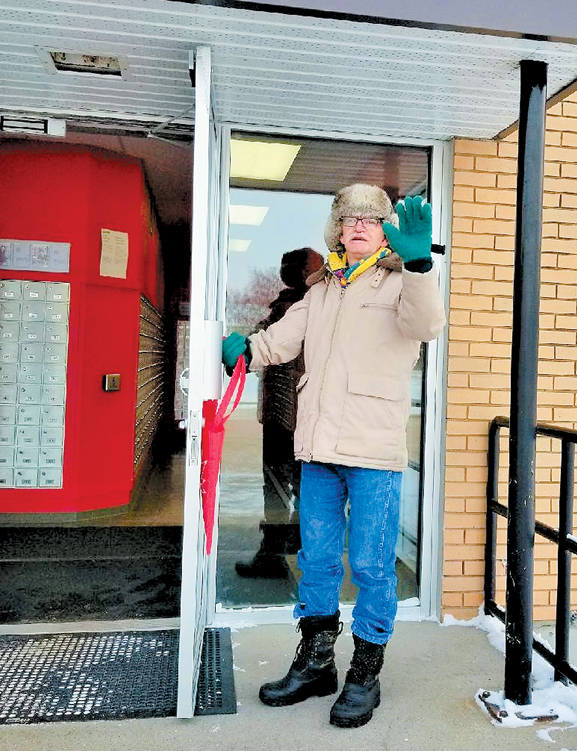 DOORMAN: Canada Post had its customers met with a big smile and a helping hand over the years with former Vauxhall resident Alan Wright opening its doors for better convenience for customers.
The following is a letter from the author that he wished to present to the community of Vauxhall. Given the impact he had on the community, The Advance wanted to showcase it in a Your Town feature rather than a Letter to the Editor. The following letter is as submitted:
To My Post Office Friends:
Hello everyone. I'm writing this letter, with the help of my sister, to let you know why I haven't been at my "post" for the last little while. I have moved to Medicine Hat to live with my sister and her husband.
I wanted to say "Thank You" to Clay Farnsworth and staff for the opportunity to volunteer in the community. While doing so, I enjoyed and had the pleasure to meet and greet many of you, in case you had your arms full or needed help with the door.
Thank you to all for your kind words, support and gifts, they all have meant so much to me over the years.
Thank you to Lindsy Cummings for your kind and touching words on Facebook and to all who supported The Post.
I will miss seeing and helping you all and will cherish the friendships and memories made. All of this will remain with me forever.
Thank you so much Vauxhall, all the best in the future!
Alan Wright
Doorman and Guitar Player