Vauxhall Saddle Club aids several organizations
Posted on January 22, 2015 by Vauxhall Advance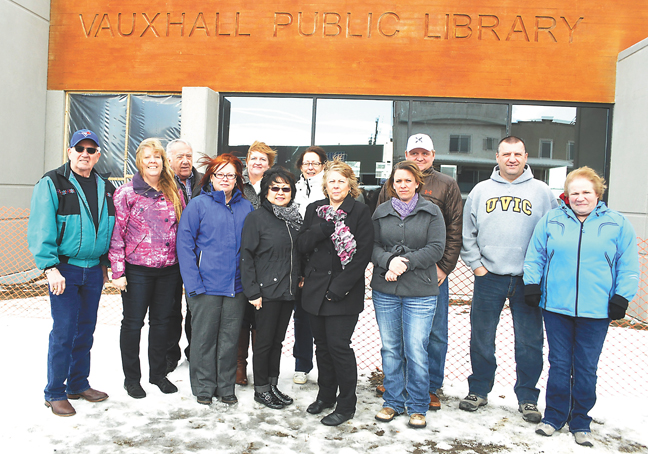 By Greg Price
Vauxhall Advance
gprice@tabertimes.com
Vauxhall Saddle Club may be dissolving after 56 years of serving the area, but not before it leaves behind another legacy, helping out 11 different organizations with a combined $47,000 in charity.
After discussions with the M.D. of Taber council, the Vauxhall Saddle Club decided not to renew its lease for its property east of Vauxhall. The arrangement called for the Saddle Club to return the site to the M.D. as is, leaving the steel arena fence, holding pens, and gates that were worth several thousands of dollars, which makes for a good start for anyone to use, including 4-H calf shows or training horses.
The last year has been a whirlwind of activity for the Vauxhall Saddle Club which has had a rich history in the area since it was formed in 1959.
With the help of stock contractor Reg Kessler, the Vauxhall Saddle Club held its first rodeo, a Canadian Rodeo Cowboys Association Professional Rodeo offering.
In 1983, the club was informed it would have to vacate its grounds site in town, so Vauxhall Saddle Club obtained land from the Department of Lands and Forests and with the help of many generous people in the community, built a new rodeo arena at the current site east of Vauxhall.
The cost of presenting professional rodeo became too much for the small membership of the Vauxhall Saddle Club and so it switched to amateur rodeos with the Chinook Rodeo Association.
The Vauxhall Saddle Club's presence in the community over the years has included helping sponsor the Vauxhall parade, pancake breakfasts, BBQ suppers, rodeo dances and rodeo queen contests.
Over the years the club has hosted activities such as trail rides, sleigh rides, gymcana events, fun rodeos, Santa Christmas parties and fall banquets and dances. Fundraising activities have included BBQ raffles, meat raffles, cash calendars, truck raffles and pony and cart raffle.
The Vauxhall Saddle Club may be riding into the sunset as an organization soon, but not before nearly $50,000 is spread out from the club to organizations, including the Vauxhall Library, Vauxhall Senior Citizens, Vauxhall Cemetery Committee, Vauxhall Lions Club, Vauxhall Ag Society, Vauxhall and District Minor Baseball, Vauxhall Skating Club, Vauxhall Curling Club, Vauxhall Friends of the Pool, Vauxhall Minor Hockey, and the Jets Stadium Society.