Vauxhall library gets M.D. cash infusion
Posted on January 29, 2015 by Vauxhall Advance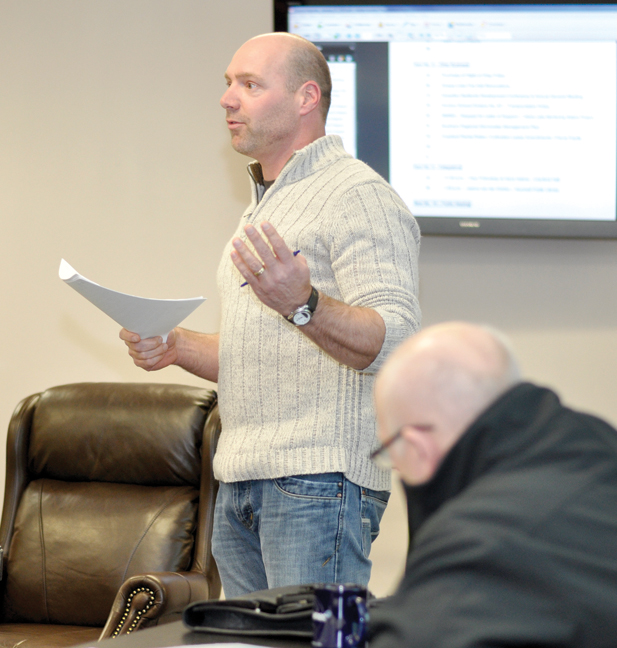 By J.W. Schnarr
Vauxhall Advance
jwschnarr@tabertimes.com
The Vauxhall Public Library is getting a shot in the arm from the Municipal District of Taber council amounting to more than $50,000 over the next 10 years.
During their regular meeting on Jan. 27, Jaarno van der Wielen and Brian Hagen, members of the library board, made a presentation on library needs and financials. The purpose of the presentation was to update council on progress of the library and to solicit funds to help with the building of the structure.
"We're here today to ask you guys for some help with the debenture to bring that right down," said van der Wielen.
According to information provided by van der Wielen and Hagen, the cost of building the library is projected at $525,000, including $13,000 for Alberta SuperNet access. Some expenses, such as the cost of computers and shelving, are planned to be provided by the Friends of the Vauxhall Library fundraising society, and have not been included in projected costs.
Funding for the project has included a number of grants from different levels of government and a large outpouring of community support.
"We're impressed by what the community has done," said van der Wielen. "We're working hard on doing some fundraising and we're getting a good response."
The library serves 447 individual cardholders, not including family memberships. It is open 32 hours per week and provides public access for computers, free Wi-Fi, video conferencing, summer reading programs for school-age children, book lending services using internal resources and access to the regional library system.
The new library will add handicap access to the bathrooms, a meeting room for children's programming and educational opportunities, and privacy for video conferencing equipment and meetings.
It will allow parents and children a comfortable space to spend time together as well as a welcoming environment for the entire community.
"You all read a book, you all use the library before. You know how important education and reading is," said van der Wielen. "And it's not just about the reading, it's also about the technology we use that a lot of people in our community do not have the access to."
Following discussion, council unanimously agreed it was important to support the library in Vauxhall, but they seemed split on the amount of funding and the method of delivery.
"It would be a lot easier for us to give them an annual payment," said Deputy Reeve Dwight Tolton. "A lot easier on our budget."
Division 2 Coun. Tom Machacek asked about what the M.D. council did during the building of the Taber Library, and said it might have been easier to add a lump-sum to the project in the early stages of its development.
During the building of that building, the council of the day donated $50,000 to the project's completion.
"They should have come to us a year ago," he said. "Does it make sense to take it from one tax payer and put it in a bank somewhere else? It doesn't make much sense in my mind."
"I think it's probably easier to help them out with funding every year," said Division 1 Coun. Merrill Harris, noting the size of the debenture payments would be a hardship for years to come.
Division 4 Coun. Ben Elfring said he was in favour of making some debenture payments on behalf of the library for the next one to two years.
"I think this is something the whole community uses," said Div. 6 Coun. Duff Dunsmore. He noted it can be difficult for facilities to continue to raise funds after the excitement of a new facility dies down. "The operation of them can be tougher."
"We have to do something for sure," said Division 5 Coun. Bob Wallace. "We're part of the community as well. It should fall in line with what we did when the library in Taber was built."
Reeve Brian Brewin suggested council consider paying one of the two yearly debenture payments (each amounting to $5,169.53). For how long was something council would have to decide on.
Elfring suggested two years of all debenture payments, which would amount to more than $20,000.
"We (annually) give them $10,500, and the town (of Vauxhall) gives them $6,000, so we're pretty generous there," he said.
"I think two years is fair."
"Two years is not enough," said Tolton, adding he would be in favour of making half the payments for 10 years, amount to more than $50,000 and bringing the project amount in line with the Taber donation.
"Ten years is too much," said Elfring.
Following discussion, council passed a motion to make one debenture payment per year for 10 years, amounting to $5,169.53 annually by a count of 5-2, with Elfring and Machacek voting against.
Completion of the building is expected in early 2015.