Constable Dreaddy recognized
Posted on February 6, 2015 by Vauxhall Advance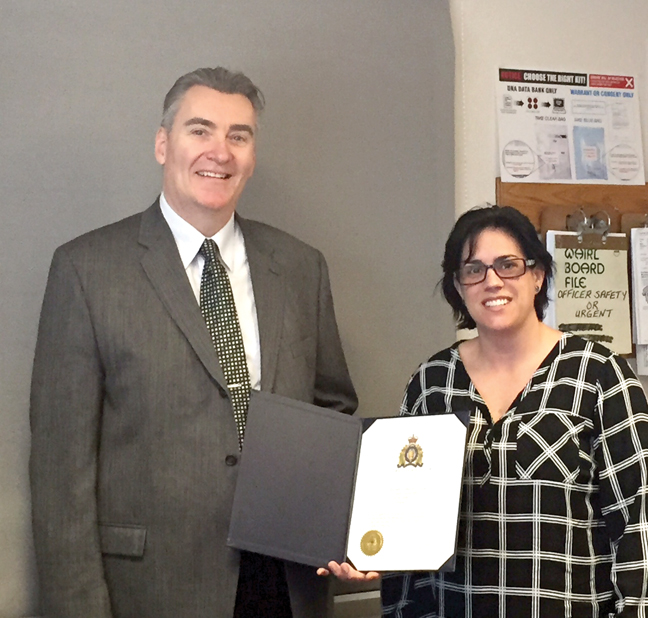 By J.W. Schnarr
Vauxhall Advance
jwschnarr@tabertimes.com
A local law enforcement officer has been recognized for her quick actions which saved a man's life.
Cst. Tamara Dreaddy of the Taber/Vauxhall RCMP was awarded a District Commander's Certificate of Appreciation in a small ceremony at the RCMP detachment office on Jan. 30 by Tony Hamori, acting district commander of the southern Alberta RCMP.
The certificate comes in recognition of an event which occurred in 2011, when Dreaddy saved the life of Bob Wieler, a construction worker who suffered a heart attack.
"We're not very timely when it comes to recognizing the actions of our employees," Hamori joked, pointing out the fact it took nearly four years for the recognition to occur.
"In recognition of your actions above and beyond the call of duty, for being directly responsible for saving the life of Mr. Bob Wieler on Aug. 8, 2011, in Taber, Alberta," he said.
Dreaddy said she was off duty at the time of the incident. Her neighbour came to her house asking if Dreaddy could come and check on a man involved in construction work in the area who had appeared to suffer a heart attack.
"I went outside and he was on the driveway," she said. "He just fell face-forward and was purple and stuff."
Dreaddy said she rolled Wieler onto his back and checked for breathing. Mr. Wieler wasn't breathing, so Dreaddy administered CPR until help arrived. She said the ambulance was delayed due to the area being new and the town had yet to put up street signs.
"They didn't know where to go, and they didn't know how to get to us," she said."That's when they decided to put street signs up there, pretty much."
"Time slows down in those situations, as well," said Hamori. "It seems like it's taking forever."
Dreaddy said in the time following the incident, Wieler eventually resumed working in the area.
"Every time I saw him, I was like, 'do you need water? Shade? A break? We're not doing this again," she joked.
Dreaddy said she was honoured by the award.
"It's very nice."