'Hospital' opens next week
Posted on March 5, 2015 by Vauxhall Advance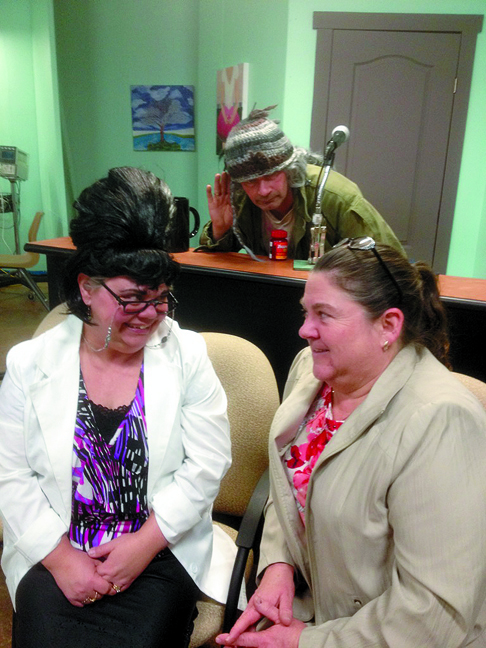 By Greg Price
Vauxhall Advance
gprice@tabertimes.com
Is there a doctor in the house?
Yes there is, and he is prescribing hilarity.
St. Joseph's Catholic Church in Vauxhall is presenting the upcoming play production of 'Hospital' later this month.
The play is situated in Bedside Manor hospital, which is in jeopardy of closing.
"The Chief of Staff likes humour and thinks it's the best medicine. But some people don't agree with that," said Hospital play director Boyd Dunn. "Most of the staff are good with the humour, but there's one particular character who is not very pleased, so they are seeing what they can do to shut the hospital down."
Dunn has directed all five church play productions St. Joseph's has performed and this one tickled his funny bone as a draw to taking on the endeavour.
"It's difficult finding plays that make you laugh, and even though this one had a really big cast, it made me laugh right from the beginning, and it's still making me laugh," said Dunn.
"That's the key. There's people coming and going all the time. It's great having such a variety of characters, some are the hospital staff, some are the patients and everyone gets along really well, so it makes directing a lot of fun."
The production has many actors in it with 26 performers. Rehearsals have been ongoing since the beginning of January where the cast rehearses twice a week. Auditions for the play were back in late November.
Rehearsals have been fantastic, but one role in particular was difficult to fill at first.
"There were some challenges, because one of the characters had to be a certain age and male. Most of the time I don't have to worry about age, I can play around with it a bit, but this one was tough. We had already started rehearsals before I had a full cast," said Dunn with a chuckle of the casting process which eventually came together. "We have a great cast. There are some veterans and some that are brand new, and that's good to have that mix."
A veteran of directing for plays in Vauxhall, Boyd admitted even if this was his first turn in the director's chair, the job is made so much easier with a helpful church congregation helping to build the sets, and a fantastic cast.
"There are so many of the cast members that are good at making suggestions too. It makes my job very easy as they come up with some really great ideas," said Dunn. "There is constant communication of 'what do you think of this? 'what do you think of that?' We all work so well together and that's a director's dream is to have a good group. It's a great excuse for having fun together."
Spectators will get to see all sorts of colourful characters make their way into Bedside Manor along with interesting staff.
"There's a variety of problems the patients have and have their own distinct way of dealing with them," said Dunn, adding the quirks with the interns are just as compelling including one in particular who has a very peculiar problem given his job.
The cast of 'Hospital' consists of Dirk Geerligs, John Van Hal, Alana Johnson, Sharon Dunn, Carmen Brummelhuis, Sarah Kropf, Erwin Claassen, Afke Muller, Hans Wesseling, Tara Brummelhuis, Laus Stikema, Lauren Gouw, Frank Sekura, Willy Stikema, Soley Burns, Anika Huvenaars, Cindy Kurek, Rinske Muller, Lien Van Hal, Dorthea Mills, Cindy Willis, Jenna van der Wielen, Luc Vanden Dungen, Lorry Vanden Dungen, Kathleen Klemen and Donna Sato.
There will be seven shows of 'Hospital' at St. Joseph's Catholic Church. Performances run March 12-14 and March 19-21 at 7 p.m. each day at the church in Vauxhall. There will also be a special 1 p.m. matinee showing on March 21. Cost for tickets is $15 for adults and $10 for students. Tickets can be purchased at Hometown Hardware and Gifts in Vauxhall or by calling the church office in Taber at 403-223-2226.