Seven-year voyage for Bush to get to Major Leagues
Posted on March 17, 2015 by Vauxhall Advance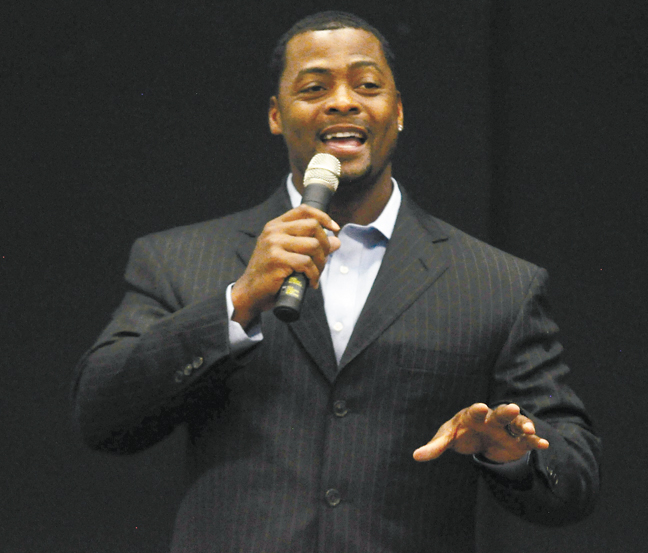 By Greg Price
Vauxhall Advance
gprice@tabertimes.com
For the packed crowd at the recent Vauxhall Academy of Baseball Ninth Annual Awards/Scholarship Fundraising Banquet at the end of February, they got to hear a story of perseverance in a Q&A session with former Major Leaguer Homer Bush. Baseball was not as specialized as it is today.
"It's a totally different time now in baseball where you really need to specialize in it if you want to further your career out of high school. For me, growing up in the city, the football program was big," said Bush. "I played baseball, but nothing like this (what Vauxhall has in its academy). When I got to high school, I was having some success with baseball and some scouts were coming around, then I was having some success in football, I broke some records and got some exposure."
That exposure led to playing football and baseball in East St. Louis had the diminutive speedster which led to being drafted by the San Diego Padres in 1991.
"My passion was just to get out of East St. Louis, it had nothing to do with either sport," said Bush with a chuckle, adding his smaller size made the choice between baseball and football easy.
Bush paid his dues, spending seven years in the minor leagues, and was later dealt along with pitcher Hideki Irabu to the New York Yankees organization in 1997.
"I know it took seven years, but the message I try to get across to a lot of young men is enjoy the journey. Baseball is a sport where people want to give it an expiration date.
They say 'I'll give it two or three years and if it doesn't work out, I'm outta here'," said Bush.
"That's not how success happens. I woke up every day and every day was a new day to do something better. I have a 13-year-old son and coach 13-year-old ball players and you give them an opportunity to do something exciting every day. You do things to the best of your ability and you find your greatness."
Bush was simply enjoying the process where he saw himself go from rookie ball, low 'A', to middle 'A', to high 'A', to 'AA' to 'AAA' to eventually getting the call up to the Major Leagues.
"When I got traded to the Yankees it was sort of a weird deal because I was traded with Hideki Irabu. Players couldn't switch teams because they had to work out a deal with Irabu.
It took about six weeks where I was with the Padres, but I knew I was going to the Yankees," said Bush. "There were things like if it went down to 50 Degrees, I couldn't play, couldn't play on travel days because they didn't want me to get hurt (to jeopardize the trade)."
Bush was eventually exposed to the winning culture of the New York Yankees, where that past history included the present as Bush was able to win the World Series in 1998. He was able to do so alongside such MLB hallmarks as Derek Jeter, Jorge Posada, Paul O'Neill, Tim Raines, David Wells, David Cone, Darryl Strawberry, Mariano Rivera, Andy Pettitte and Bernie Williams.
"It was like being in corporate America, when I came to the Blue Jays, it was more younger guys where you could lean on each other and figure things out together. But, it was cool going to the field (with the Yankees). I couldn't believe I was playing with these guys," said Bush.
"The beauty of going into that situation was I learned how to listen. Nobody wanted to hear my philosophy on hitting when I had all these experienced players."
That year Bush cracked the Yankees lineup, his career was at a crossroads. There were only 25 guaranteed contracts with the team so it was either make the squad or be put on waivers.
After the 1998 season, Bush was traded to the Toronto Blue Jays, along with pitchers Graeme Lloyd and David Wells, for pitcher Roger Clemens. Bush played in Toronto from 1999 until 2002.
"I was young, I wasn't getting a lot of at bats with the Yankees, so I was excited to go there. I was thinking after 12 months (with the Yankees) someone actually wants me? It was about the opportunity that is in front of you," said Bush. The very first phone call I got from Gord Ash (former Jays GM), he said 'you're my second baseman.' You are playing second base. I was just excited to get to work and make an impression."
And Bush immediately did, his standout season was in 1999, when he batted .320 and stole 32 bases. Bush played in Toronto from 1999 until 2002.
"My skill set was easy to figure out. I was a little guy who could play defence and go run," said Bush.
But chronic hip injuries cut Bush's career short, forcing him to retire from Major League Baseball in 2004.
"In '98 I started having a little aching. I didn't play a lot so it didn't bother me that much where I did some stretching and I was fine. But, in 1999, when I had to get out there and earn my paycheque, I got exposed and that's when I started noticing it a lot," said Bush. "I was hoping the pain wasn't there, but two or three strides in, that pain was there. A week later I was legging out a triple and Gord Ash walked onto the field and said 'something ain't right' and that's when it started spiraling out of control. I tried to do the best I could, but I eventually had to have surgery in 2000."
Bush applauded what the Toronto Blue Jays have done to help increase the profile of baseball in Canada. In the United States in some areas, it's difficult t simply get a practice field.
"A lot of the cities don't want you on their field. What the Jays do through their super camps, we're teaching between 150 t 25 kids over a three day period, all these amazing coaches giving top shelf information," said Bush. "They are also building baseball fields up with these facilities and this is what is happening across Canada. I'm extremely excited being part of that. I'm writing a book and inside the book it talks about how Canadian baseball may one day surpass America as its pastime. It's just not there in the inner cities in America. It's not because they aren't interested, but you need a financial commitment and time."
The advice he gives to his son and teammates along with players with the Vauxhall Academy of Baseball was that at some point every player should give back to the game.
"One thing I've seen in these academy kids is they are very appreciative of what they have. The things I took away from my baseball career was hard work, determination and perseverance," said Bush. "Whatever you do in life, it's going to take hard work. There wasn't any roster spots in '98 and I eventually made the team because I made a commitment to myself to come to the field each and every day and do my job.
I was truly focused on my career."