MLA Donavon fundraiser a chance to discuss issues
Posted on April 9, 2015 by Vauxhall Advance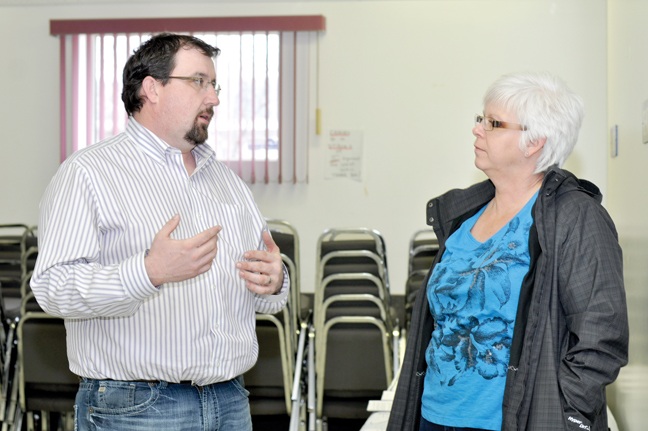 By J.W. Schnarr
Vauxhall Advance
jwschnarr@tabertimes.com
It was an opportunity to sit down for some pizza and wings with the local MLA while discussing pressing political issues, though few were there to take advantage of it.
PC MLA for Little Bow Ian Donovan was at the Vauxhall Legion last week and addressed questions from local residents. In regards to the low turnout, Donovan blamed an inability to get the word out in time before the day of the event.
"This is a PC fundraiser we're doing so we can talk to constituents about the upcoming elections, and what they see with the budget that just came out," he said.
Donovan said the main issues he spoke to local residents about included power issues with distribution from the agriculture sector, discussing health care premiums, taxes on gas, and "sin" taxes on cigarettes and alcohol.
"At the end of the day, we have a budget here that has a plan for three years, that cuts government spending by 8.9 per cent, which people always talk about how to make sure we get the best value for the dollar. We have a plan for three years, and a 10-year plan to help get this province back on its feet."
Donovan also took aim at the opposition, calling their claims the proposed budget would cost the average family household $2,500 in new taxes out of line. However, it should be noted the Wildrose claim comes from averaging all 59 fee hikes and taxes, while Donovan's claim focused entirely on the provincial tax hike.
"The opposition came out with some pretty high numbers that don't match," he said. "An average family with two kids making $120,000 is going pay another ($288) in taxes a year, not ($2,500). These are the numbers that need to get out. Get the actual, real numbers out there rather than the fear mongering side."
Donovan blamed tanking oil prices and the province's dependence on oil revenue as the cause of the deficit issue, a different tone from a statement made by the premier last month when he appeared to blame Albertans for the deficit.
"When oil went from $110 a barrel to about $50, right now the revenue in the province is 25 per cent done on oil and gas. So Premier Prentice's plan is to get this back down. This is the first step in this budget, to get that direction down to nine or 10 per cent so we don't have these big swings. It's making sure we have a sustainable plan going forward that people can see."
"None of our challengers have even a plan put together. It's easy to armchair quarterback what you should be doing, but you've got to have a plan and put something in place as any business does."
Donovan also addressed criticism that corporations were getting off easy in the budget with no new corporate taxes being presented, focusing on how those taxes might affect small, local incorporated farms and businesses.
"You go around Vauxhall, and how many of the businesses are small corporations?" he asked.
"I think we do need that competitive advantage otherwise the big corporations will move into B.C. or other provinces because it's a competitive advantage to move there. Right now we don't need CP or big oil companies moving their head offices because there's an advantage there. I think at the end of the day, taxing corporations higher doesn't gain you anything and actually hurts people in small town Alberta, because that's who I represent, and lots of them are small corporations."