Taber Farmer's Market kicks off another season
Posted on July 2, 2015 by Vauxhall Advance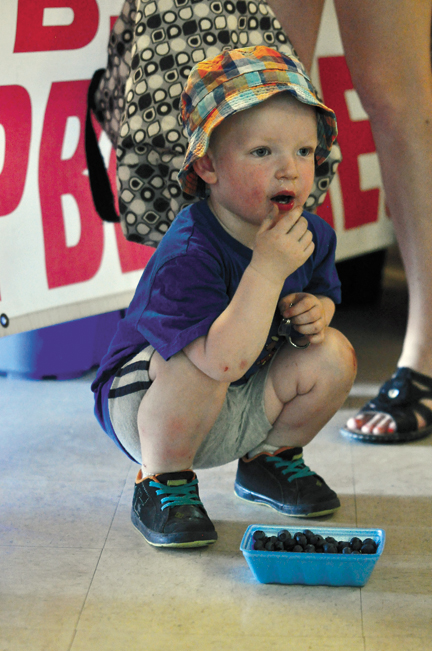 By J.W. Schnarr
Vauxhall Advance
jwschnarr@tabertimes.com
Summer is here again, and with it comes the opportunity for local residents to load up on their favourite local fare as the annual Farmer's Market is back at the Taber Agri-Plex.
The event kicks off Thursday, July 2, and runs Thursday evenings from 5 p.m. to 7 p.m. through the summer months and into the end of September.
Organizer Amanda Valgardson said the market is a chance for local residents to shop local and support their friends and neighbours.
"We're a government of Alberta-approved Farmer's Market," said Valgardson.
"We have to follow an 80 – 20 rule. Eighty per cent of all products must be made or grown or produced in Alberta. Twenty per cent of the vendors can provide 'other' items. B.C. fruit counts as 'other', because it's not Alberta-made."
The market boasts an annual participation of between 20 and 25 tables for shoppers to peruse, including B.C. fruit, at least four local vegetable producers, three baking vendors, home-made dog treats, and an assortment of crafts such as crochet. Valgardson said a new face this year will be a jerky vendor.
Valgardson noted the market provides an avenue for local non-profits to get their message to local residents.
"We allow one table every week for a local non-profit or charity for free," she said, adding anyone interested in using that space should call the Taber Exhibition Association for more information.
"Our first one is Communities in Bloom," she said. "They are going to be advertising their annual yard competition."
Almost as great as the produce and other goodies available is the friendly atmosphere, and an environment that comes from localizing the shopping experience.
"It's a real sense of community," she said. "Most of our vendors are local to Taber and area. When you are supporting them, you are supporting your local producers."
Admission to the Farmer's Market is free. For more information, please call the Taber Exhibition Association at 403-223-9539.