M.D. council fills Vauxhall pool with $200,000
Posted on July 20, 2015 by Vauxhall Advance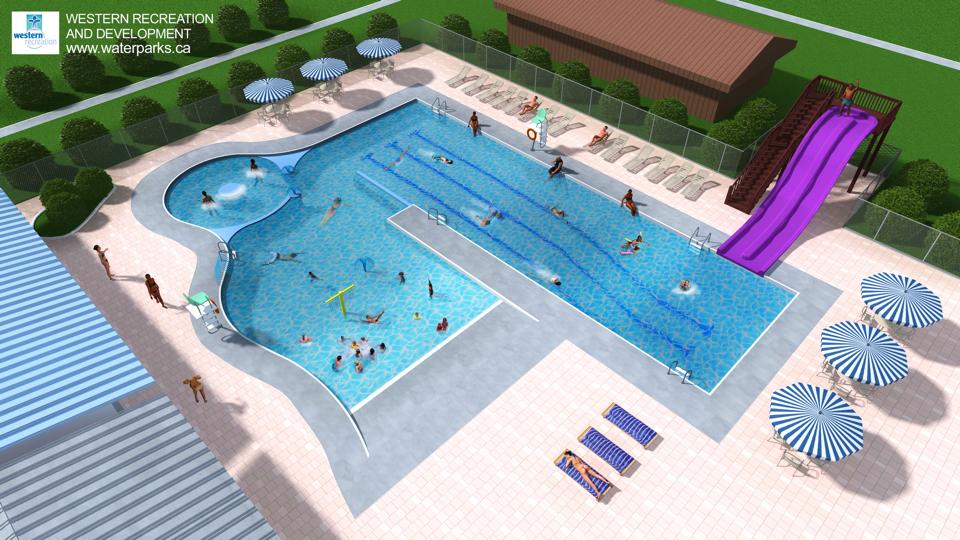 By J.W. Schnarr
Vauxhall Advance
jwschnarr@tabertimes.com
A decision to funnel $200,000 into the Vauxhall Public Pool project by the Municipal District of Taber council did not pass without reservation.
During their regular meeting June 23, M.D. council passed a motion to provide the funding by a vote of 5–2. Division 2 Coun. Tom Machacek and Division 4 Coun. Ben Elfring voted against the resolution.
Division 5 Coun. Bob Wallace, who represents the Hays area on M.D. council, said M.D. council has a responsibility to make the donation.
"In recognizing the community support behind the pool, and we've known all along that they've been doing this, it was just our turn to step up and make the donation," he said.
In regards to the split vote on the issue, Wallace said he was unsure as to why Coun.(s) Elfring and Tom Machacek voted against the decision.
"They didn't really say," he said. "You'd have to ask them yourself."
Elfring said while he was not against the project, he took issue with what he saw as a lack of information provided by Vauxhall council, in that they never formally appeared before M.D. council to request the money.
"We don't really know what they want to build," said Elfring. He went on to say he had been misquoted in the Vauxhall Advance when a previous story stated he didn't know a pool project was underway, and that he had been commenting on the fact M.D. council has not been told which kind of pool Vauxhall is currently looking at building.
"I didn't say I didn't know they were going to build a pool," he said. "I said I didn't know which one they were going to go with."
"I'm not against giving them money," he added. "But I just wanted some information. The reason I voted against it was that (Vauxhall council) never came in and give a presentation like everyone else does. I don't think that's right. If you are going to ask for money, at least come in and talk to us."
Wallace said a lack of formal presentation by Vauxhall council was not an issue.
"The request came through town council," he said. "It was appropriate."
He emphasized the project has been a full community effort.
"There's community support behind the pool," Wallace said. "Everybody is donating and working to make this project happen."
He added the project, when completed, will not only benefit those who live in Vauxhall, but many M.D. residents in the area as well.
"It will benefit the residents in Hays, the rural residents around Vauxhall, and also in Enchant," he said. "Many residents will be using it for swim lessons for the kids and also just for use of the pool. It definitely benefits the rural residents around the Town of Vauxhall."
Elfring said it's important to have all the facts in order before committing to a large sum.
"I don't mind giving money to any kind of recreation," said Elfring. "But spending taxpayer money, to me, I have to know all the facts and I have to feel comfortable saying yes or no. I wasn't comfortable saying, 'yes, I support this $200,000.' I support the project, but I do not support giving $200,000 until we give all the information we need, and I feel we didn't get all that information."
"You have to decide what you want to get first, before you start asking money," he added.
"The decision of which pool to go with is a (Vauxhall) council decision," said Wallace. "This is just our donation towards it. That (pool) decision is up them."
Wallace also said the amount was comparable to what the M.D. council had donated to the Town of Taber pool, and that council used that amount as a benchmark when considering how much to donate to Vauxhall. According to minutes from the May 8, 1990 M.D. council meeting, a resolution by F. Alden Fletcher proposed a donation of $200,000 to the Town of Taber for the construction of an indoor pool, with instructions that the donation in no way obligated the M.D. toward any operating costs. That motion was carried. That donation of $200,000 in 1990 would be worth $325,802.31 today, according to the Bank of Canada's inflation calculator.
Elfring said it's the biggest recreation donation he's seen in his years on council.
"That's the biggest one I've seen since I've been on council. And I just don't feel right about that kind of money, especially when they haven't gotten their results back from fundraising."
"The community, not only in Vauxhall, but the surrounding area, is behind the project," said Wallace. "Numerous farmers and people outside the Town of Vauxhall are donating toward it, and it looks like a worthwhile project."
Elfring said he accepts council's decision.
"It doesn't sit well with me," he said. "But a council decision is a council decision, and I'll live with it. But I am dead against how it happened."