Taber Players holding dinner party
Posted on October 22, 2015 by Vauxhall Advance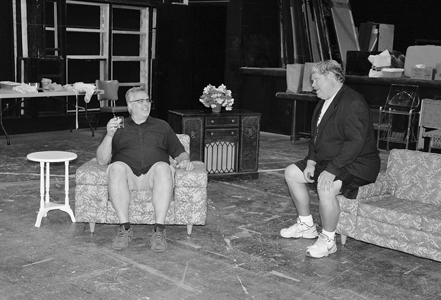 Advance photo by Trevor Busch
By Greg Price
Vauxhall Advance
gprice@tabertimes.com
The situation may be adult themed, but it will be laughter for the whole family as Taber Players presents 'Don't Dress for Dinner' which officially opens tomorrow.
Director Rob Berezay is a veteran of 27 different productions, helping out in some respect in Raymond, Milk River and Coutts. This is Berezay's first foray with Taber Players, which has his excitement building.
"Since I read this script, I fell in love with it the moment I started reading it. It was one we thought we might not be able to do down here because of the content," said Berezay, noting the premise can be seen as risqué given the subject matter. "It involves people having affairs."
But Berezay cautioned while the plot that drives the play involves adultery, it is the misdirection that drives the comedy which has a positive message at the end.
"It's a husband and wife where he's having an affair with a young mistress. He finds out his wife is leaving to her mother's for the weekend, so he plans a romantic weekend with his mistress," said Berezay.
"The phone rings and his wife answers it, and her husband's best friend Robert is coming for the weekend and she is actually having an affair with Robert, his best friend."
Bernard, the philandering husband is played by Taberite and theatre veteran Darrell Croft. His wife is Jacquelin, played by Taber Players stage veteran Jocelyn Steinborn. Bernard's friend Robert will be played by Berezay who will be acting and directing.
"(Jacqueline) changes her plans and decides to stay home and meet up with Robert. But what she doesn't know, and what Robert doesn't know, is Bernard has hired a caterer to cook for his mistress," said Berezay.
Monkey wrenches get thrown into everybody's plans in which the mayhem that ensues, which includes rearranging identities between the cook and the mistress, making for non-stop laughter.
"By the time you add up all these mix ups into one evening, it's fast paced identities, screaming, hauling, kissing. It's the whole premise of husbands and wives cheating, but the loving thing is, all's well that ends well. It is a happy ending," said Berezay. "It starts off rather sordid, but ends on a very good note. The premise is not lurid, it's not torrid, it's hilarious. It's all about people getting stuck in situations rather than the situations themselves that we are laughing at."
Joining the cast of Don't Dress for Dinner is Jaclynn Rapinda who is Suzanne, The Mistress. She played Eunice Hubble in 'Streetcar Named Desire,' Meg March in 'Little Women' and Vera Claythorne in Agatha Christie's 'And Then There Were None' among Taber players stage credits. Barnwell resident Angi Gardner plays Suzette, The Cook, and has performed in the productions of 'Grease' and Aladdin, and has been a singer, dancer or choreographer in other productions. Dylan McMurdo plays the cook's husband and has performed both with Taber Players and in W.R. Myers drama productions.
"The cast has been excellent to work with. My directing style is more collaborative. There are some directors that are very rigid to their vision. But, I open up the floor to the artistic input of the actors," said Berezay. "The cast and I have made it way more funnier than I would have been able to by myself. They have been a dream."
The cast and crew for Don't Dress for Dinner have been doing rehearsals since the long weekend in September.
Don't Dress for Dinner opens tomorrow with doors opening at 7 p.m. and the performance at 7:30 p.m. at the Taber Legion Hall. The show also runs Oct. 23, Oct. 24 and Oct. 29-31 and Nov. 5-7. Evening performances all have doors opening at 7 p.m. with the performance at 7:30 p.m.
There are also daytime matinees on Oct. 31 and Nov. 7 with doors opening at 1 p.m. with the performance at 1:30 p.m. Tickets are available at The Shoe Gallery at 5326 48th Avenue or by calling 403-223-3355.