Reeve Brewin thankful for democratic process in election
Posted on October 29, 2015 by Vauxhall Advance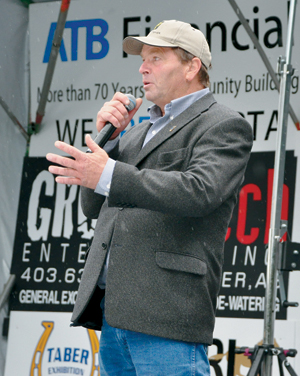 INSIGHT: Reeve Brian Brewin hopes there will be improved relations with Western Canada under Justin Trudeau as opposed to his father Pierre with the family tradition as Prime Minister (Advance file photo).
Greg Price
Vauxhall Advance
gprice@tabertimes.com
Municipal District of Taber Reeve Brian Brewin has never hidden the fact he stays true to his Tory blue.
A card-carrying member of the party provincially, Brewin ran unsuccessfully for a seat as an MLA in the Cardston-Taber-Warner riding earlier this year.
Nevertheless, he hopes the M.D. of Taber can run harmoniously with the Liberal majority government that was elected earlier this month.
On the national stage, the Liberal Party secured 184 seats (54.4 per cent) for a majority and a new prime minister in Justin Trudeau, while the incumbent Conservative Party took 99 seats (29.3 per cent). The NDP brought up the rear with 44 seats with the Bloc Quebecois securing 10 seats. The election sparked a resurgence of interest among eligible voters, as 68.49 per cent of them cast a ballot.
"You always have to respect what the people say. We are fortunate enough to live in a country where we mark our differences in Xs rather than bullets," said Brewin. "I will always take what the people say and work with what we have."
What the Bow River riding has is strong representation, according to Brewin, in federal Conservative candidate Martin Shields, who won the riding in convincing fashion by taking 77.4 per cent of the vote in the newly-minted riding.
"First of all, he has been a mayor for a long time (in Brooks), so he has a lot of experience. But, what really drew my attention to Martin was the Lakeside Packers when they were having their problems," said Brewin.
"He really stood up and got behind his community and did what he could locally getting the plant up and rolling and to help the people who were laid off. I was pretty impressed with him, he showed that he was there for the people."
Every politician makes their promises, whether they follow through with them will be decided in upcoming months. But one that Brewin hopes will be fulfilled under Liberal leadership federally is infrastructure.
"With infrastructure spending, as a municipality, that is always good," said Brewin. "Bridge funding is more provincial, but certainly road funding and housing is something we partner with (federally). We will wait to see where that goes."
What Brewin hopes does not go, is Justin Trudeau taking a page out of his father Pierre's political playbook, in alienating Alberta as the 15th Prime Minister of Canada from the late 1960s to the mid 1980s. Critics had accused him of unduly centralizing decision making to the detriment of the Prairies — most notably his controversial National Energy Program. Liberals managed a mere four seats in Alberta, and some defeated Harper supporters are already calling for an independent 'Republic of Western Canada.'
"We will wait and see what he does. He certainly seemed to be interested in the West in his campaign and it's not like he was never out west," said Brewin, adding hopes are West relations with Justin are a lot less frosty and adversarial than they were with father Pierre.
The Taber area has official opposition members both provincially under Wildrose's Grant Hunter as MLA with an NDP majority, and federally with Shields with a Liberal majority.
"It is important to have a strong opposition, although of course everyone hopes it is in someone else's riding," said Brewin with a chuckle. "But it is good to have other people looking over someone's shoulder to see things are being done in accordance with rules and regulations."