Local veterans form peacekeeping chapter
Posted on November 26, 2015 by Vauxhall Advance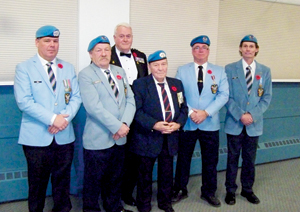 NATIONS IN UNITY: A local United Nations Peacekeeping Association chapter has been formed in the region, and is seeking new membership from the area to fill the ranks with serving veterans.
Greg Price
Vauxhall Advance
gprice@tabertimes.com
A local chapter for the United Nations Peacekeeping Association has officially been formed at a time where it is needed now more than ever according to organizers.
The organization is in its infancy steps as it looks to attract new members to the chapter, which formed in late October to give aid to veterans.
"Even though our group with our headquarters in Taber, it is truly all of southern Alberta, south of Calgary," said Ed Martin, interim membership chairman of the Taber chapter of the United Nations Peacekeeping Association.
"There are a lot of Legions in small communities that are no longer there. We have a lot of veterans, when they retire, they go home in rural communities where their closest connection to a Legion is three or four hours away. This gives them an opportunity to get involved and to be proud of their heritage because most of our meetings are done electronically. It also gives them an avenue for funding and the help they need. Soldiers are very proud people and they don't go looking for help. It's a good chance for us to help the veterans that are not being helped."
At this time last year it was announced $1.13 billion was returned to the national treasury which was unspent by Veteran Affairs since 2006. This is during a time when the Afghan war was in full effect and numbers show from the Defence Department more Canadian soldiers have died of suicide than died in combat in Afghanistan, showing the glaring gaps of mental health help for our veterans. It is organizations like the newly formed one in Taber that wants to continue to come to the aid of veterans in southern Alberta.
"Some of the Legion people can't get out as much as us younger guys can," said Len Barry, interim president of the Taber chapter of the United Nations Peacekeeping Association. "We have a mobile cenotaph at the Legion and at the (Taber Community Centre) so they can pay their respects and they don't have to go out on the Cenotaph lawn. We started going around and visiting with WWII vets and Korean vets and the guys who worked in Afghanistan are still reasonably healthy."
The Taber chapter of the United Nations Peacekeeping Association is looking to doing a project with the local air cadets with building 25 drill, non-firing rifles for ceremonies.
"We will come up with the supplies we can scrounge and acquire," said Barry.
The group will have its first official meeting in mid-January in the basement of the Taber Police Service station. The association is encouraging new members all over southern Alberta, although a requirement is that you are serving or have served your country. The group has a Facebook page at S.A.V.U.N.P and have hopes to have its webpage up and fully functional by Christmas. You can contact Barry at 403-795-2126 or e-mail len.unv@shaw.ca.
On Nov. 11, the local chapter of the United Nations Peacekeeping Association helped celebrate National Peacekeepers Day. On Aug. 9, 1974, a Canadian Forces Buffalo Aircraft left Ismalia, Egypt for a regular supply mission that included stops in Beirut, Lebanon and Damascus, Syria. The aircraft was unarmed at the time, carrying resupply equipment and parts for the UN troops stationed in the Golan Heights. There were nine passengers and crew members on the aircraft at the time which would have three surface-to-air missiles fired at it, even though the control tower gave the plane permission to land, destroying the aircraft and killing everyone on board.
In 2008, the Canadian government declared Aug. 9 as National Peacekeepers Day in honour of those who died in that aircraft attack. It was the largest single loss of life for Canadians serving with the UN since the Korean War.