Maxwell pays service tribute through his song writing
Posted on November 26, 2015 by Vauxhall Advance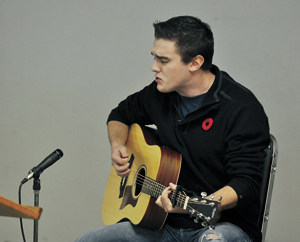 Advance Photo by Greg Price - GUITAR HERO: Mark Maxwell performs his song 'Soldier' to a packed crowd at the Remembrance Day Ceremonies at Vauxhall Canadian Legion #193.
Greg Price
Vauxhall Advance
gprice@tabertimes.com
The Remembrance Day Service ceremonies featured at Vauxhall Royal Canadian Legion #193 earlier this month had many heartfelt moments attached to them.
One of them was a musical tribute by Mark Maxwell who strummed a couple of songs on his guitar including an original song he penned called 'Soldier.'
"I wrote it in 2012. My grandfather was a paratrooper in WWII and I have always had a lot of respect for people who serve their country," said Maxwell.
"I was given a skill playing music and I thought this would be my way of showing my respect for these people."
Maxwell right now is focusing on his school, but once that is completed, he is looking to pursue music as a career side project. Maxwell is currently a certified Level II firefighter and just finished writing his exam earlier this month for EMT in which he will be working on an ambulance fairly soon.
"I love to write and songs work for me. Short stories and poems, I love it, but songs work better for me," said Maxwell, who added he has over 40 songs that are either completed or are in the process of being written.
"My songs explore pretty much everything. When I sing 'Soldier,' it comes out country, but I love all types of music and with the songs I write, I just want to tell stories. Some are personal experience."
This is the second year Maxwell has performed 'Soldier' at Vauxhall's Remembrance Day ceremonies at the Legion.
"I'm glad people are enjoying the song and for people who have served and have heard the song, I want them to know how much I respect their decision to serve," said Maxwell.