Bill 6 protests make way all over province including southern Alberta
Posted on December 3, 2015 by Vauxhall Advance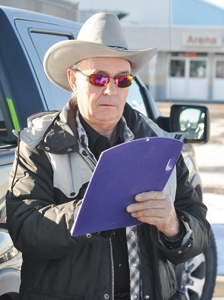 (Photo by Greg Price) DOTTED LINE: David Woodruff signs a petition to strike down the proposed Bill 6 - Enhanced Protection for Farm and Ranch Workers Act during a small rally outside the Taber Community Centre on Tuesday afternoon.
J.W. Schnarr
Southern Alberta Newspapers
A farm solution requires farmer involvement before any new laws or regulations should be put in place, ag producers said during a protest on Highway 3 on Monday.
Around 50 farm vehicles and 100 local producers representing family farms and a nearby Hutterite colony lined a portion of the highway east of Fort Macleod to protest the contentious farm safety bill introduced by the provincial government. The event was just one of a handful of protests that took place Monday, including one in Edmonton and another near Welling.
Arnold Beusekom was at the protest and said the bill infringes on the farmers' way of life.
"Farming is not a business. It's a family operation," he said. "All these people that are out here supporting us today are family farms."
"It's a peaceful protest," he added. "We don't want no one to get hurt.
"This government seems kind of bent on destroying us," he added.
Bill 6 – Enhanced Protection for Farm and Ranch Workers Act – would remove existing exemptions from workplace rules for farms. The bill would amend the Occupational Health and Safety Act, Workers' Compensation Act, Employment Standards Code and Labour Relations Code for farms. Changes to OHS are not planned to be implemented until 2017.
Ben Wipf, from the Standoff Hutterite Colony, said the colony makes use of hired farm help.
"As far as safety goes, we already address (those issues)."
Jason Wipf said many farmers are against the proposed changes because they feel there hasn't been enough consultation with producers. There is also resentment from the feeling the bill was developed by people not involved in agriculture at all.
"The rules they're going to bring in were made by someone sitting in an office in Edmonton," agreed George Wipf.
"They don't know anything about farming."
"There are people in the city who think their milk and their eggs do come from Safeway. They have no idea what a farm is."
Ben said the government might not be considering how important timing is for farm work. During seeding for example, a tight timeline developed with help from agronomists is used. As a result, work can sometimes extend far past regular working hours in any other industry.
"That's why you can't have hours (worked) in there," he said. "You can't control the hours."
"When it's harvest time, (we work) 18-20 hours a day," said Beusekom. "Cows are calving in the middle of the night. What are you going to do?"
"Our industry is around the clock," he said. "You tell me what other industry faces that."
"No farmer is going to stop working on a holiday," said George Wipf. "You can't afford it. When your truck is in the field, you combine."
Beusekom said another big issue for producers is their lack of ability to regulate the price of their products, the way other industries can simply increase costs of their products in order to offset costs.
"Someone pays for our product what they want to pay us," he said. "We're providing the best and cheapest food in the world, but we've got no way to recoup any of our extra costs these regulations would enforce on us."
Beusekom said more consultation is needed.
"We want to work with the government to create something," he said. "We don't want the government to create it for us."
"It would be nice if the government consulted us before they went through second and third reading," he said. "What other industry does that happen to that they can just do what they want without consulting the people it affects?"
On Tuesday afternoon, the Notley government announced amendments to Bill 6 which would make it clear WCB coverage would be required only for paid employees, with an option for farmers to extend coverage to unpaid workers like family members, neighbours and friends. It will also make it clear that Occupational Health and Safety standards apply when a farm employs one or more paid employees at any time of the year.