Saddle Club gives parting Christmas gifts
Posted on December 17, 2015 by Vauxhall Advance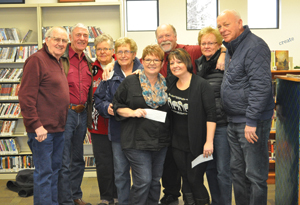 (Photo by Nikki Jamieson) LAST CHECKS: Members of the Vauxhall Saddle Club and their last donation recipients gather for a group hug at the Vauxhall Public Library on Dec. 10. After operating for 56 years, the Vauxhall Saddle Club is hanging up their hats for good.
Nikki Jamieson
Vauxhall Advance
njamieson@tabertimes.com
On Dec. 10, at the Vauxhall Library, Pete Janzen, president of the club, handed out the last of the club's coffers to several organizations within Vauxhall. While currently operating in a semi-retired state, once these cheques clear, the Vauxhall Saddle Club will officially close its doors.
"These checks were given, not because you're better looking or bigger or nothing like that, it was because you have a better idea and better use for the money, we thought. It was a decision made by our small club, that this was the way to go," said Pete Janzen, president of the Vauxhall Saddle Club. "We are about out of funds now… nigh onto $59,000, since we started this… I hope you enjoy, and use it wisely."
The club donated a total of $11,000, split between Friends of the Library, Vauxhall Elementary, Friends of the Pool and Vauxhall Lions Club and donating six Christmas hampers.
Those hampers were complete with toys to the Vauxhall Food Bank.
"With what they're donating, we're planning on getting a phone line in, and some window dressing to protect the books," said Joe-Anne Farnsworth, chair of the Library Board. "When the building was completed, we realized we had no phone line. We're not sure how that happened, but we've without a phone since we moved in, in June. So we're excited… I'm sorry to see the Saddle Club is not going to continue; they've been a huge part of the community for so many years, but thier donation is helping a lot of different groups."
"We're really thankful and grateful to the Saddle Club and Pete (Janzen) for including us in the donation, and it will benefit a lot of kids," said Dale Cummings, principal for Vauxhall Elementary.
"We have some technology we have to purchase, some iPads some Chrome books, that we can use in the classrooms… we can use them for all sorts of learning centers."
"Donations like this is what is going to give us the pool again," said Debbie Brummelhuis, member of the Vauxhall Friends of the Pool society. "We're hoping our pool will be open July 1, next summer. So we'll need paddleboards and lesson equipment, all that kind of stuff… Without donations like this, we will probably never see our pool open again."
The club had announced earlier this year in January that after 59 years, they were going to cease in operation. But first, they still had plenty of casino money that had to be handed out, causing them to be semi-retired while they did that. Once they handed out all of the casino money, they were able to donate the last of their funds and close the club.
The difference between normal donated and casino money is that the latter comes with strings attached. They could hand it out to whoever needs it, but only if that party makes an effect to ask for it.
"Casino money is different from this money (handed out today)," said Janzen.
"Casio money has to be given to certain projects, written consent that we can give money to these people. They have to have a project going that they are working on, and they have to put a certain amount of their own effort into it. Which I mean, it doesn't have to be all money, it can be labour and stuff like this that they're putting in. Let's say they're building something or it's online. So that counts as their donation to it, their part of it. If we get a letter, in that direction, asking us for funds to help, then we can do that."
The Vauxhall Saddle Club was formed in 1956, and began hosting rodeos in Vauxhall. When fundraising for the event, they came across casino money, which they couldn't use themselves, as so began donating the money to various organizations in town.
With the club getting older, no one coming in to replace them and less funds coming in, they decided to stop hosting rodeos and the parade after over 50 years, and shut down.