Prairie Rose Manor gets $50,000 facelift from health foundation
Posted on December 24, 2015 by Vauxhall Advance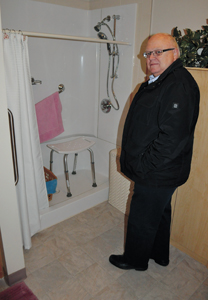 (Photo by Greg Price) NEW AND IMPROVED: Doug Emek, chairman of the Taber and District Health Foundation got to see first hand the improvements to the bathing facilities and carpet at Prairie Rose Manor.
Greg Price
Vauxhall Advance
gprice@tabertimes.com
Taber and District Health Foundation's reach is far past Taber itself in helping with the quality of life for individuals.
Members of the board got to see first hand how approximately $50,000 they donated to Prairie Rose Manor, a retirement home in Vauxhall helped its residents earlier this month.
Taber and District Housing applied for a grant for improvements to the facility which included bathroom upgrades and replacement of dated carpet that was causing safety concerns. The grant application was unsuccessful, and when the Taber and District Health Foundation heard of the facility's plight, they stepped in.
"The carpet (in the hallway) was bunching up and to made it easier for residents to trip," said Linda English, Vauxhall town councillor who sits on the board for Taber and District Housing, as the improvements to the carpet were years overdue. "This new carpet is nice, it's got tiles so you don't have to replace it all at once. You can replace it one tile at a time. I think before they didn't use the proper gluing."
The lion's share of Taber and District Foundation's funding replaced bath tubs with retro fitting walk-in showers in 12 units in the facility.
With increased safety for the seniors at the facility in going in and out of a stand-up shower that has seating if needed as opposed to climbing in and out of bath tubs in sitting positions, it aids careworkers as well.
"They can interact with the resident a whole lot more. It's a whole lot more convenient and cleans up the whole area," said Tim Janzen, CAO for Taber and District Housing, adding most residents have been happy with the changes, although a few still pine for the nostalgia of the tub.
"There are some that want that experience (of a bath). But overall, in terms of bathing, it's something they are getting used to and it improves the washroom and their overall safety. Overall it has been a very big positive."
Year after year, the phones ring off the hook as the Taber and District Health Foundation holds its annual telethon in October as the day is filled with televised entertainment of the event at the Heritage Inn in Taber. The foundation managed to raise $220,000 alone for 2015, in which donations are made far past the Town of Taber borders.
"The foundation gets a lot of support from Vauxhall, so it's good to be able to do something here which isn't always the case because there's not a hospital here, but there is still personal health needs here," said Doug Emek, chairman of the Taber and District Health Foundation.
"If we can help out here as well, that's important."
Before the retro fits for the walk-in showers were made, Alberta Health Services was consulted for their recommendations.
"They didn't want the benches in, but supplied a whole lot of chairs. The homecare finds it so much easier with curtains, it makes it so the seniors can be independent longer," said Corey Beck, maintenance manager for Taber and District Housing, adding two separate shower heads were put in each shower to account for height differences and aid homecare when bathing a resident.