Pool project high on agenda for council in 2016
Posted on January 14, 2016 by Vauxhall Advance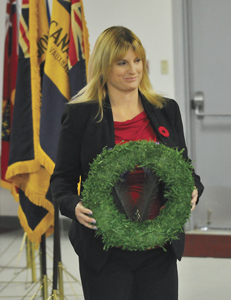 (Photo by Greg Price) REMEMBERING 2015: Vauxhall Mayor Margaret Plumtree lays a wreath at Remembrance Day Ceremonies at the Vauxhall Legion.
Nikki Jamieson
Vauxhall Advance
njamieson@tabertimes.com
For Vauxhall Mayor Margaret Plumtree, 2015 and 2016 have one thing in common; getting back the community pool.
"Raising money for our pool has been our biggest challenge (for 2015)," said Plumtree. "With the downturn in the economy, grants are not readily available, making it highly competitive for the few that are out there."
But with the way the community has come together, even forming a special society, Friends of the Pool, to specifically fundraise to put together enough money to rebuild the old, leaking pool, that new, non-leaking pool will become a reality in 2016. Plumtree is proud of everyone who participated, "from the volunteers to the ones who support every fundraiser and to those who have donated" in Vauxhall and the Municipal District of Taber.
Fundraising for the pool is still ongoing, but construction is underway. Plumtree credits McNiven's Excavating Ltd and Bow River Irrigation District, for being able to remove the old pool quickly and at little cost.
The grand opening of the pool in July will be something to look forward to, but right now she has other projects to get off the ground.
"Fibre optic is the next big infrastructure, if we could bring this service into our community, it has the potential to increase our investment attraction for new businesses. Not to mention, how it can increase productivity for our current businesses."
In mid-November, 2015, Axia had approached the town, offering to install their fibre optic network for free if at least 30 per cent of Vauxhall households signed up to indicate they want the service by the end of the year.
Also, with the renovations to the town hall and arena being completed, updating the community hall and kitchen is next on her to-do list. While the outside was refreshed when the renovations to the arena was taking place, the inside of the hall received no attention what so ever.
"The hall is used by so many, from fundraisers, grad and wedding receptions," said Plumtree. "It has most definitely grown weary from all the excitement of the years."
Council will continue to focus on tourism and investment attraction in 2016, aided by SouthGrow and the Joint Economic Development Committee. With sports as their tourism focus and improving network speeds relating to business attraction, a lot of their goals are intertwined. Vauxhall council will continue to discuss plans in upcoming council meetings, and there is also the chance for better communication and relationships with both the provincial and federal governments.
"With a provincial election and a federal election all in one year, much communication and decisions with the government has been put on hold," said Plumtree. "I hope that 2016 will bring about better communication with our government locally with our (representing MLA and MP), provincially and federally. I look forward to this New Year, working with our new government for change and a more prosperous Alberta."
And as for Plumtree's plans personally, she simply makes the same New Year's resolution every year.
"My plan for the New Year is always the same; get fit, try to eat healthy, make memories with my family and make a difference."