M.D. looking to forge forward in 2016; Brewin
Posted on January 28, 2016 by Vauxhall Advance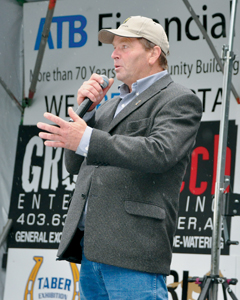 (Advance File Photo) M.D. of Taber Reeve Brian Brewin
Greg Price
Vauxhall Advance
gprice@tabertimes.com
Alberta had had its share of struggles in 2015 and the start of 2016 with plunging Loonie values and recession gripped in plummeting oil prices.
But the Municipal District of Taber Brian Brewin is taking a glass-is-half-full approach as the area pushes forward in its attempt to reverse negative trends.
"The biggest thing that comes to my mind certainly from 2015 and heading into 2016 is uncertainty to be honest with you. We have two new governments (NDP provincially, Liberal federally) that we haven't really seen what the policies are yet and how that is going to affect us," said Brewin. "We certainly know we have a shrinking economy with the oil. But the agriculture is certainly a bright spot for the M.D. in a good way. It's the uncertainty with how new policies are going to affect us and what those policies are going to be."
In a time of uncertainty, council has been attempting to add some certainty to its costs running in the M.D. of Taber. In September, M.D. council made the commitment along with Vulcan County to purchase a $5.6 million gravel pit in the northwest quadrant of the district. The purchase is to be split with Vulcan County and is expected to provide the M.D. with an estimated 75 years of gravel for the northwest sector.
The $5.6 million dollar purchase will divide a quarter section of land in half and will provide 2.4 million cubic yards of gravel to the M.D. and 2.0 million cubic yards of gravel to the County. The purchase price was split based upon the volume of gravel in each 80 acre parcel at a rate of 44.81 per cent (County) and 55.19 per cent (M.D.). The municipalities undertook an extensive engineering evaluation of the property prior to purchase. The Municipal District of Taber operates and maintains approximately 2,400 kilometres of gravel roads and 250 kilometres of paved roads.
Also, last week, the M.D. announced the purchase of a 13-acre parcel near Johnson's Addition that will be used in the future to develop an onsite, communal septic system for residents of Johnson's Addition.
The M.D. also entered into a purchase agreement for a 40-acre parcel of land between Taber and Barnwell for the purpose of constructing a municipal maintenance and operations building and over time, further municipal buildings.
"That's the best way to do it. To make sure we know what our costs are going to be with some of our stuff so we can do more planning into the future with set pricing going forward," said Brewin.
That being said, financial realities where suppressed forecasts are expected by some to creep into 2017 will have the M.D. of Taber trying to stretch their tax dollar to the max.
"As a municipality, we are going to go back a bit with basic services. These are what are basic services are and this is what we need to provide," said Brewin. "Wants and needs will be separated and talked about a lot more. We certainly know road and bridge maintenance are our number-one priorities, that's been made clear."
Brewin tipped his hat to M.D. of Taber staff in its ability to get as much work done in a year as they can with the equipment and services available.
"Looking on the bright side with the agriculture side. Our reliance on agriculture in this area is going to shine," said Brewin. "I think it's something that is going to make a difference in this area compared to other areas with the diversification of our local producers."