Vauxhall native has difficult, but rewarding experience working on Oscar nominated film The Revenant
Posted on February 4, 2016 by Vauxhall Advance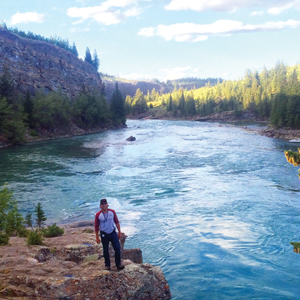 OSCAR WORTHY: While the terrain was difficult to shoot a movie, there were a lot of picturesque areas such as this one in the Kananaskis.
Ryan Dahlman
Southern Alberta Newspapers
Most people in Alberta, watch for the list of Academy Award nominations at best as a passing fancy or because they are considered "movie buffs."
No so for Vauxhall native Brock Skretting, who watched as the film The Revenant – which is he worked on as a trainee production co-ordinator – earned 12 nominations.
While most people are looking at the Best Picture, or Best Actor categories, Skretting is looking more at Best Director, Best Production Design, Visual Effects, Cinematography and other technical areas.
The Revenant is about the trials and tribulations of American trapper and frontiersman Hugh Glass (played by Leonardo DiCaprio) in 1823 Montana and South Dakota.
A lot of the movie was shot in rugged Alberta terrain, including the Badlands near Drumheller, Dead Man's Flats near Canmore, Fortress Mountain, Bow Valley and the Kananaskis.
Skretting is a professional, but he admits working on The Revenant was a thrill.
It was a continuation of excitement after working with director Christopher Nolan (and one of his idols) in the 2014 film Interstellar.
"It's crazy to see people you used to idolize first in the flesh and then back on the television up for awards. I had gone and seen every Christopher Nolan movie since Batman Begins in the theatres its opening weekend and he quickly became my favourite director. Then to work for him was a 'Pinch me, I'm dreaming' moment," explains Skretting.
"Then a year later, you're watching the Golden Globes with people who worked on Birdman never really having had any emotional attachment to who wins or loses in the past and you realize things that seemed impossible and illogical only a decade earlier are happening for you. To see this playing out as it is for The Revenant, where so much work from so many different people came together to try and pull off a very difficult thing and you can't help but hope that all of it will be recognized… is a huge feat in and of itself. Of course, that was the pressure and expectation from day one making this movie. This was an Oscar film and everything had to be done meticulously."
Working with Oscar-nominated director and Mexican filmmaker Alejandro González Iñárritu on The Revenant was an outstanding experience, although media reports say it was a difficult challenge to shoot. DiCaprio himself says it was the hardest set of days of shooting he ever experienced.
Skretting agrees, it was definitely tough physically because logistics and the weather made it more than a little challenging.
In the end, it was all worth it.
"Working on a show of the scope and as logistically challenging as The Revenant was definitely a once-in-a-lifetime level of difficulty that I think the people involved will look back and think, 'What a crazy thing to have been a part of', because it was quite literally a crew-wide descent into madness to even attempt to shoot a movie this way," says Skretting.
That shooting including outdoors with no lights, many one-take 360-degree sequences, in order of the script rather than by location/conditions, taking equipment to remote locations and shooting essentially an art film with a movie star requiring huge box office numbers to even break even.
"It's bonkers. All of those things equal an amount of pressure and push the envelope on what making a film is. The result however is probably the most beautiful portrayal of Alberta on film ever made.
"I think there's the other humbling notion that yes, it was hard, but if any one of the cast or crew had to do what the main character Hugh Glass in the movie did in real life, with maybe the exception of survival expert and advisor Mors Kochanski, we would die. We didn't die making this movie – we were pushed way out of our comfort zone – and it's a testament to the toughness and skill of Canadian crews. Whatever crazy ideas you've got as a director, writer, or producer the smart and capable crews here can make it happen."
Skretting has had different jobs with his young, but impressive, work resumé. He says what he does depends on the project. Production assistant on the TV miniSeries Klondike to production assistant on the TV series Fargo to the trainee production co-ordinator for Intersellar and The Revenant, Skretting has no shortage of work. Some of it is glamourous, while some of it not so much.
"I started as an intern in the production office on Discovery Channel scripted miniseries called Klondike which was about a character venturing into the unknown of the wilderness to strike it rich during the gold rush. I literally ran around and did whatever anyone told me to – get them coffee, make note cards breaking down each scene, answer phones, plunge the toilet, whatever," Skretting explains matter-of-factly.
"As a trainee and assistant production co-ordinator you are stepping up into co-ordinating what people need to make a production possible from work space for construction, wardrobe props, set decoration to be built and made, to office space for the directors, producers and assistant directors to schedule, budget, and plan what they are going to do, and then the logistics of flying them in and out where they need to go, accommodations while they are there for the shoot, communications on and off set (ie. phones, walkie talkies, internet, etc.) and then all the paperwork and information that is needed so everyone can work together to get a project done. This includes scripts, call sheets, schedules, sides (pages from the script to be shot that day) equipment breakdowns, budgets, contact lists, etc. Then there is all the equipment (camera, lighting, grip gear, cranes, gadgets, weather and location gear) that must be rented or bought and organized for use.
"You're basically working with the producers to ensure everyone has what they need to do their job and take the movie from something inside the director's (in feature films) or show runner's (in TV shows) head and burned into an image (on film or a computer chip if shooting digitally)."
One of those things that he does for his work is move around. He has lived in six areas near Calgary because of his job. The amount of time he spends actually working on the film and then driving home, it's the only way he can do it.
Skretting says it's a booming time in the industry in Canada in general. Calgary, Vancouver, Montreal, and Toronto all have seen many projects of all sizes and films shot in the last few years.
He says a studio can save 40 per cent on a movie and on a movie such as The Revenant which had a budget of more than $100 million that's $40 million in savings.
Skretting heard the controversy involving DiCaprio and now best actor nominee, as he seemed confused about Alberta chinooks and their perceived relationship to global warming.
DiCaprio won for his role in the Critics' Choice and earned a Golden Globe, but faced a lot of scrutiny when making his comments a few weeks ago. Skretting has infinite respect for him.
"I will say in regards to (DiCaprio), while he's come under fire in Alberta for not knowing what a Chinook was I don't find it that shocking that someone who grew up in L.A. or anywhere far away from Alberta doesn't know what a Chinook is and we did have a unusually warm winter season that year. The weather here and how often it changes is shocking to see from (an) outsider's prospective (which is a difficult thing to think about if you have lived here your whole life and are accustomed to the provinces weather oddities).
"DiCaprio is one of those guys who has reached a level of fame where if he jay-walked people would talk about it. His performance in a very difficult and isolating role is outstanding, and if he gets the Oscar he deserves it come February (Feb. 28). It will be one of the things I'm happy to have been on the show where it happened."
Ultimately, Skretting has one goal in mind – to write and direct.
"I don't say it in the same way I said, 'I want to be an NHL hockey player'. I will be a director. There's an insurgence happening right now that is showing Canada can make world-caliber films. I want to be a part of the generation that breaks the stereotype that 'Canadian-made films are poor quality'," explains Skretting.
"I've been learning the both creative and technical side of the business and how to navigate through it. I write constantly and have been doing more since working in the industry despite having next to no free time. All of these experiences give you different insight of how you would do it if given the chance – what's the difference between tv caliber, popcorn flick caliber and Oscar caliber entertainment, and where do you see yourself fitting into that. I've got a lot to learn, but it's all part of the journey."
As for The Revenant, Skretting will be watching the Academy Awards to see how many honours it earns.
No matter what, he is proud to have been part of an impressive film. Skretting says unlike many theatre goers, he checks out the credits of a film.
It was a good feeling to see his name on The Revenant.
"I definitely waited for the credits in The Revenant to see all the names of people whose contributions made it possible," explains Skretting.
"I'm one of those people who will clap in the theatre at the end of a movie if I really loved it because I know how much work, effort, and expertise goes into it. Those five seconds where you see your name scrolling up there represents thousands of hours work – an almost entire year of my life where I did very little else than work on that film. You also think about the many people who don't make the credits for whatever reason because I know the feeling. The Revenant was the first one I made the credits. On Interstellar I was so stoked to see it and was omitted.
"It takes a village of immensely talented, likely insane people to make a film and even if it means nothing to anyone else, those credits represent a lot to the people involved."