RCMP consider speed sign deployment for region
Posted on February 18, 2016 by Vauxhall Advance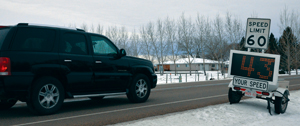 ADVANCE FILE PHOTO
Nikki Jamieson
Vauxhall Advance
njamieson@tabertimes.com
The new radar speed sign is a topic of interest for the Municipal District of Taber council.
During their delegation to the regular M.D. council meeting on Feb. 9, Sgt. Kevin McKenna and Cst. Melanie Schefter of the Taber/Vauxhall RCMP talked about the new piece of equipment that went up the previous week; a radar speed sign.
The radar speed sign they are using right now is only on loan to them for a period of about one and a half months. They told council that they plan to leave it in its current section of Huckleberry Road for about one week, before moving it around the M.D. to places such as the Chamberlain School zone in Grassy Lake, Vauxhall, Taber's Wal-Mart road and Highway 3, where they have heard complaints and witnessed a large amount of people breaking the speed limit.
"It'll be moved very so often," said McKenna. "It's an educational thing more then anything."
This way, the department could gather data on whether or not these areas actually do have a speeding problem more efficiently, rather then simply lying in wait for any potential speeders to pass by.
"A lot of times, what happens is we'll get these phone calls, 'You need to get your guys out here."
"Well, we'll go out there and sit for two hours, and nobody goes by," said McKenna." "If there's 100 cars that go by and not one of them is speeding, that's not where I would want to put my manpower. I want to put my manpower where we're having real problem, and not a perceived problem."
With the sign, the memory chip inside will record the speeds, times and traffic flow in a given area. The department will be able to analyze that data to determine what areas will need more enforcement.
In addition to gathering data, the highly visible lighted part of the sign lists what speed your going at or blinks 'slow down' if you are going above the posted speed limit.
"It's almost like public shaming," said Schefter. "Because everyone can see (your speed)."
Council was also interested in other applications of the sign, such as in construction zones. McKenna told council that in a previous post, Crowsnest Pass and the M.D. of Pincher Creek had each gotten one.
"They use it for just about everything," said McKenna.
"If you wanted one yourself, I don't know the price, but then you can have your own. And the enhanced position has got a lot of work, but that thing really works."
The radar speed sign that the Taber/Vauxhall RCMP is currently borrowing is also used by 37 other detachments, so they might not get it for another 37 months at least.
However, while they have the sign, if council gets notice of any problem spots, the M.D. can give them a call and they can move the sign there.
After the RCMP delegation left, council asked Jeremy Wickerson, director of public works, to look into getting a quote for a radar speed sign of their own.