Vauxhall community mourns death of Kondor who gives life to others with organ donation
Posted on March 3, 2016 by Vauxhall Advance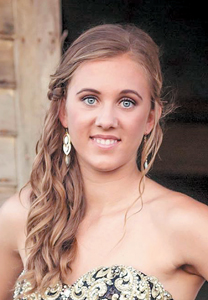 Megan Kondor
Greg Price
Vauxhall Advance
gprice@tabertimes.com
The Vauxhall community laid to rest one of its own on Tuesday, but the impact 18-year-old Megan Kondor had on its citizenry is still very much in their hearts, as a packed Mennonite Brethren Church mourned.
On the morning of Feb. 22, the Taber/Vauxhall RCMP responded to a single occupant, single motor vehicle collision on Hwy 524 near the Village of Hays.
Megan Kondor from Vauxhall, was traveling eastbound on Hwy 524 when the vehicle went into the ditch and rolled over. Kondor was taken by STARS air ambulance to the Foothills Hospital in Calgary, where she would eventually succumb to her injuries.
"It's been a very supportive place this past week. There has been lots of tears amoung staff and students with a lot of support provided by the school and the division," said Todd Ojala, principal at Vauxhall High School, upon hearing the passing of its salutatorian for the grad class of 2015.
Kondor embraced life in any pursuit she undertook be it academics or athletics in school, or bettering the lives of those around her out of school.
A perennial all-star in both basketball and volleyball, that saw the Queens go to volleyball provincials three years in a row during her time at the school.
"She was your ultimate leader, in that she showed up every day and gave 110 per cent. Sometimes in high school and you are picking out leaders you get personality struggles because a bunch of girls think they are the leaders," said Scott Reiling, Kondor's volleyball coach while she attended Vauxhall High School.
"But the teams she was on, everybody knew she was the leader, not because she pumped her chest, telling everyone she was the leader. She was the leader because of her work ethic. When we won, she was always passing the accolades to her teammates and when we lost she always took the blame for it. When the younger kids would struggle in a match, she was quick to comfort them. Even when things went wrong on the court, she was the cheerleader out there clapping her hands."
Kondor was the kind of player that got noticed on the court for those traits all across the province.
"When the news came out (of Megan's death), I was getting e-mails from teams we played all the way up to Spirit River who remembered her, of what a sad tragedy it was. When you think of how many players you see in a year for some of these teams, to say I remember that girl, it was her spirit and she had that with everything she did. There was only one speed for Megan Kondor, and it was 110 per cent," said Reiling.
They were traits Reiling noted that can be found in the whole Kondor family as he has seen shades of Megan in her sister Aimee and brother Blake as guided by their parents.
"That is what the family is built of. She had left Vauxhall, but wherever Megan was going to call home, she was going to make a huge impact on," said Reiling.
Even in death, Megan's selfless ways have had a huge impact on the lives of others.
Per Megan's wishes, her family has donated her organs, and now six people will have a chance to live.
As much as Kondor excelled at volleyball, she loved basketball even more and was the Vauxhall Queens' MVP for 2014-2015.
Vauxhall Queens basketball coach Allen Matthews has been around girls basketball for many years and according to him, very few stood out the way Kondor did in how she approached the game for the betterment of herself and her teammates.
"She was not a ra-ra kind of person, she was simply someone who worked her duff off. No one worked harder. She put in the extra time to work on the little things and you don't see that anymore," said Matthews.
"There will be kids that go to the gym to shoot, but she would work on a certain move on the floor and she'd even take her little sister into the gym on an off week."
Funerals have a way of making people remember the good things about a person while glossing over the bad ones. In the case of Kondor, it would be hard for people to find the latter according to Matthews.
"This was a kid that I don't know who you'd talk to that could even bring up any bad stuff. She excelled in school, she excelled in sports. No matter what she did, she excelled at it and did it in a caring and positive way," said Matthews.
"Her club coach from Medicine Hat was there (at the funeral) as a pallbearer and she said I've never seen anybody who was more of a student of the game. Megan was a sport kid and used that in sports."
That determination was found in the classroom as well with Kondor always on the honour roll with top marks at Vauxhall High School. Kondor was Female Academic and Athlete of the Year for 2015 at Vauxhall High School. Kondor left for Medicine Hat College this academic year to pursue her post-secondary education in nursing, while playing for the Rattlers women's basketball team at the time of her death. Members of the Rattlers athletic programs for women's and men's basketball drove down in a bus to attend the funeral.
A talented artist and faithful member of her church, she also served on the Vauxhall student council.
Kondor was honoured for her accomplishments at the 2015 Apex Youth Awards.
"She was an outstanding youth. Our deepest condolences and sympathies to the Kondor family for their loss," said Ojala.
"Megan was intelligent, kind, respectful, funny, thoughtful, a good sport, a great friend, a bright student and a pleasure to be around. She will be missed by all that knew her."