World Series champion tells his tales to packed fundraiser crowd
Posted on March 3, 2016 by Vauxhall Advance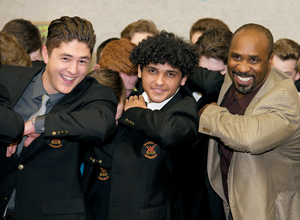 (Photo by Joe-Anne Farnsworth) ALL SMILES: Brett Resch, KJ Moreno and former Major Leaguer Devon White ham it up at the 10th Annual Vauxhall Academy of Baseball Award/Scholarship Fundraising Dinner at the Vauxhall Community Hall on Saturday. For more photographs of the night and a list of the big award winners, please see next week's Vauxhall Advance.
Greg Price
Vauxhall Advance
gprice@tabertimes.com
Vauxhall Academy of Baseball's 10th annual Award/Scholarship Fundraising Dinner guest speaker Devon White was as smooth as if he was patrolling centre field as a three-time World Series champion and seven-time Gold Glover.
The Major League veteran of 16 seasons and three all-star selections was part of a Q&A with MC Marty Baceda as he charmed the packed crowd at the Vauxhall Community Hall on Saturday with his quick wit and sense of humour.
"Before we even start talking, I must say, I'm very impressed by the Vaux— Hall," said White to a chuckling crowd to start the Q&A. "I've done a lot of these and I've never seen an organization that supports these young men like this, not only with baseball, but the school, the workout room and the mentors they have, I am very impressed."
White was born in Jamaica, but moved to New York when he was nine years old. A multi-sport threat, White's first love was basketball.
"It was always a pleasure moving from the poverty in Kingston, Jamaica where I was from and moving to New York where everything was so new to me. Of course, seeing that white stuff on the ground was weird at first, but I got used to it very quickly," said White.
Drafted by the California Angels in the sixth round of the 1981 MLB draft, White made his MLB debut in 1985.
"Let's first talk about playing in Idaho Falls (in the minors) and did end up playing in Lethbridge against the Expos/Dodgers at the time. I could call myself Canadian too, playing against Lethbridge, and in Medicine Hat and Edmonton, there were those big mosquitos. That was my Canadian hero welcome," said White with a chuckle. "I stayed two years with Edmonton (Trappers). Getting called up that first year, I see some of these (academy) kids come up and they start talking and they get nervous. We all get that way, and playing in front of 30,000 people with the California Angels, I was like 'please don't hit me the ball. They called me in the seventh inning for Reggie Jackson and I'm saying, 'Why did they do that?' After you catch the first one you know you're all right."
On Sept. 9, 1989, White became one of the few players in MLB history to get on first base and then score by ceremoniously stealing second, third and home base.
White looked over to Les McTavish in the crowd, head coach of the Vauxhall Academy of Baseball, and apologized before his comment, knowing there were children in the room.
"The pitcher was pissing me off," said White with a wide smile of why he was feeling extremely frisky on the basepaths that historic game.
White took great pride in all aspects of his game as a centre fielder. Known primarily as a whiz defensive outfielder who can fly on the basepaths, White also took to the batting cage religiously, where he showed surprising power for a player that ranged between 170-180 pounds, pounding out 208 home runs for his career to go with 846 RBI.
"The whole aspect of the game we should all strive to get better at. You should try and be good at everything as opposed to just one thing," said White.
Dec. 2, 1990 was a great day for Blue Jays fans as White was traded along with Willie Fraser and Marcus Moore to the Blue Jays for Junior Felix and Luis Sojo.
"I welcomed it. I asked for a trade at that time. I was playing with a lot of veteran old-school guys and I wasn't enjoying my time there anymore," said White.
In Canada is where White played his best baseball. He would earn five of his Gold Gloves and recorded a .336 post-season batting average which helped with two World Series titles. In Game 3 of the 1992 World Series, White made arguably the greatest catch in World Series history. White chased down and caught a David Justice fly ball while jumping into the wall, turning the play into two out and a disputed missed triple play with the Atlanta Braves baserunners caught off guard.
"They have said the catch changed the complexity of the game with the way it was going. The Atlanta Braves were a great team. But, it's hard to pinpoint one moment," said White. "We lost in the playoffs in '91, but then came back and won in '92. To do that three times in a row (making the playoffs) and being at the top of your game for that long, that was the most gratifying time of my career."
All throughout his Major League Baseball career, White used only one glove stealing base hits away from players and being his pitcher's best friend.
"It's very hard to do and I was very superstitious about that. I don't let anyone put their hands in my glove," said White. "It was repetition, repetition, repetition, practice, practice, practice, and challenging yourself."
A three-time all-star, White rubbed shoulders with the likes of Mark McGuire, Kirby Puckett, Tony Gwynn, Ozzie Smith, Wade Boggs and Bo Jackson in his first all-star game. But it was his third and final one that White treasured most.
"I was a little ticked off because Canada's own Larry Walker started centre field and he's not a centre fielder," said White jokingly.
"But that last time when I was with the Diamondbacks near the end of my career, I cherished it a little more, because that's a hard thing to do when you're older."
White was able to catch lightning in a bottle with the Florida Marlins who he signed with in the 1995 season, winning another World Series in 1997 despite long odds by pre-season prognosticators.
The team had its star power in Moises Alou and Gary Sheffield, but for White, the feel was just different from the electricity that was the Toronto Blue Jays at the time in the early 1990s.
"There was a (academy) player earlier that said he had 21 other brothers and that is what we were with the Toronto Blue Jays, we were all brothers," said White. "We kept everyone in check. To this day I tell Cito (Gaston, Blue Jays manager at the time) that we made his job easy. He didn't really have to say anything to us. Just go out and play ball, no one really got out of line. The only person to really get out of line was the Locks. The Locks was Kelly Gruber. He was a bit of a party animal."
He likened the team chemistry to this past season's Blue Jays that saw post-season play after a long drought, but it is difficult to compare which team was better overall skill wise.
"I'm always asked by young guys which team was better. It's not fair to compare eras like that. It's like saying Babe Ruth was better than Barry Bonds. It was just different," said White. "But they kept asking and asking so I said let me answer it for you then. When you go out to (the Rogers Centre), and you get a chance to see the banners flying around, they say 1991, 1992, 1993. There's no 2015," he continued with a chuckle. "But the Blue Jays are a very good, young, talented team and I'm very impressed. During the playoff run, I was very excited. Walking through the stands and seeing 50,000 fans, it reminded me of when I played."
Continuing to charm the crowd, White was brutally honest with what he misses most about his MLB playing days.
"The First and the 15th," said White referring to the huge paycheques players get. "Seriously though, it's the camaraderie with the guys. We would talk smack the whole game with the umpires."
Currently White is working with Jays Care Foundation doing camps for boys and girls club along with Roberto Alomar, Roberto Alomar Senior, Duane Ward, Lloyd Moseby and Jesse Barfield.
"It's been very enjoyable and now a lot of kids are picking up baseballs. I know the parents are concerned with concussions with things like hockey," said White.
Devon White played for 16 seasons in Major League Baseball, splitting his seasons between the California Angels, the Toronto Blue Jays, Florida Marlins, Arizona Diamondbacks, Los Angeles Dodgers and Milwaukee Brewers.