Parents voice concerns over IHG policy
Posted on March 10, 2016 by Vauxhall Advance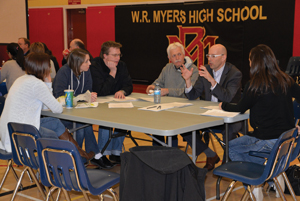 (Photo by Nikki Jamieson) LET'S DISCUSS: Horizon School Board superintendent Wilco Tymensen (second to right) asks some policy IHG forum attendees what their thoughts are on the Respecting Human Rights (LGBTQ) policy as it currently stands, during the evening of March 8 at W.R. Myers High School in Taber.
Nikki Jamieson
Vauxhall Advance
njamieson@tabertimes.com
The Horizon School Board's public forum on policy IHG – Respecting Human Rights (LGBTQ) – was attended by approximately 80 people, all wanting to voice concerns about the policy.
In a series of round table discussions – each hosted by a member of the school board – on the evening of March 8 at W.R. Myers High School in Taber, the groups went over each aspect of the policy, and what concerns the parents had.
"I think that it is extremely important to create a learning environment that it is safe, caring, welcoming and respectful for all students, including students who identify as LGBTQ," said Lindsay Workman from Taber. "I think that it is a positive step towards inclusiveness, and really, these things are already covered by human rights legislation and the School Act, so the policy is just providing guidelines, for schools to follow what's already in place, and I think it is important for all students to feel safe and secure."
Some of the concerns raised during the table discussions included the role of teachers, who makes the choice to involve families, the use of preferred names, bathroom usage, overnight trips and, loudest of all, what about parental rights?
"The original guidelines that came from Alberta Education, my original thought was, they had taken parental rights right out of the equation. The parents lost their rights, even LGBTQ parents, lost their parental rights. They stripped the rights of all parents, to have a say in the education of their children," said Carolyn Johnson, from Barnwell.
"The (HSB) policy, it was better than the guidelines from Edmonton, but they still need to put in parental rights into that policy."
With the current wording of the unrevised policy, a lot of parents voiced concerns that it was too vague on their role or simply cut them out of the picture. A petition was even circling around from Parents for Choice in Education, calling for an appeal, or at least an amendment, of Bill 10 since it excludes parents from having a say in their child's education.
"The parental rights were completely out of it, and I did not appreciate that," said Helene Ypma, from Taber. "There was no consideration for how parents would feel towards these issues… I liked all those things where they're trying to do, is support the students who have these specific needs. That's okay, but like I said before, what I don't like is that they took parental rights out of it. Parental rights must be in these policies, they must be. Parents have the ultimate, and I think, final say, for their child, because parents have ultimately the best interests for their child."
In the School Act, it states in the opening preamble, that "Whereas parents have a right and a responsibility to make decisions respecting the education of their children". In Part 1, Students, of the act in Sec. 16.2 on Parents, it further states that their role, in their child's education, is to:
* Take on an active role in their child's educational success, including assisting the student in complying with section 12 (students role)
* Ensure that their conduct contributes to a welcoming, caring, respectful and safe learning environment
* Co-operate and work with school staff, as to support the delivery of specialized supports and services to the student
* Encourage, cultivate and advance collaborative, positive and respectful relationships with teachers, principals, other school staff and any other professionals providing supports and services in the school
* Engage in the student's school community
However, with Bill 10 and the resulting Best Practices guidelines, some parents feel that their rights, as parents, are being trampled.
Another big concern raised was with counselling and self-identification. Johnson expressed concern with how it would be handled, particularly with Sect. 1.9of the policy: Ensure staff will not refer students to programs or services that attempt to change or repair a student's sexual orientation or gender identity.
"I feel like we need to give those kids and parents who are struggling with this, all the options," said Johnson. "I was really concerned about that one, because it doesn't give them, the parents, all the options to try to help that child, or that child… Most girls when they were growing up were tomboys and sometimes boys played with dolls, but that doesn't mean that they're transgender."
"When it says 'Respects an individuals right to self-identification', that opens up the door, if a teenager says today, I want to be a girl, then that opens up the door for him to have access to washrooms, sports teams, changing room, that's what the problem is… Do not take that at face value."
Students need parental support during this time, she argues, and instead of simply embracing gender dysphoria, they should let them know all available options.
According to Web MD, gender dysphoria is defined as feeling strongly that you are not the gender you are meant to be, for example, having male genitalia but feeling that you are female.
Treatment for it generally involves not addressing or changing this, but since it often comes hand in hand with anxiety and depression, treating those symptoms, mainly through talk therapy. Other options include changing how you physically look, through hormone therapy or reassignment surgery, or puberty blockers for those who are younger, until they are old enough to make the decision for themselves.
Some have argued that this is a phase that youth are going through, since many children and young adults do not feel comfortable in their own bodies.
However, that anger at Bill 10 is not being directed at the board.
"Well, the policy is being mandated by the government, so I think the school board is being proactive in trying to create the policy," said Workman. "I do like that there's been public consultation and input from the public, and I feel that the school board has been open to hearing all the feedback from the parents."
"Compliments to our Horizon School Board. They were doing, I feel, a very fabulous job, a very satisfactory job, already with the Safe and Caring policy we had in place," said Johnson.
"We've got a very safe and caring school division. The guidelines Alberta Education has sent down, and have told a school board to implement into our Safe and Caring (policy) has created problems, because now, it segregates a group of students, instead of under the umbrella of Safe and Caring."