Pool society gives residents a tour of pool in anticipation of July opening
Posted on April 14, 2016 by Vauxhall Advance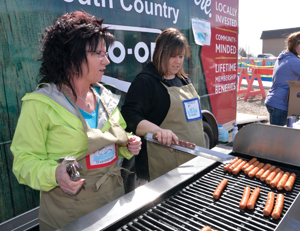 (Photo by Nikki Jamieson) BBQ: Trina Broderson and Shawna Wiest prepare the hotdog lunch for the Pool Open House on April 8. Over $1,000 was raised during the Open House, which will go towards the pool .
Nikki Jamieson
Vauxhall Advance
njamieson@tabertimes.com
Last Friday, Vauxhallite were able to get an up close look of their new pool.
At a hotdog BBQ hosted by the Vauxhall Friends of the Pool society, South Country Co-op and Western Recreation, curious residents got to ask question and look over the pool, to make sure it was up to snuff. Delegations from other towns – including as far away as Manitoba – even made an appearance to check out the pool's progress.
"There was lots of moms with their kids checking it out. That kind of stuck out in my mind; we're not used to having so many young children running around a construction site," said David Snidal, Project Development for Western Recreation, the pool contractor. "We had one group from Gimli, Manitoba. The Mayor and distant mayor and CAO and the rec director all piled in a truck and drove from Gimli, Manitoba to Vauxhall to look at your pool, because they're building a pool up there and they wanted to see one, you know, not filled with water, when it in process, construction… Pretty impressive, when people drive for 12 hours to see your pool, even before its built."
What is unique about the pool is the way it was built. Instead of simply burying the pipes in the group, Western Recreation had meticulously built a crawl space that circles the pool, to house the pipes and electrical work.
One of the most common problems with pool is broken pipes. If a pipe creaks to break underground, then you have to get a pool specialist in and be prepared to do a lot of digging in order to find that one pipe. But with the crawl space, you can just call in a plumber to fix it. Snidal says that this is just "common sense", and he doesn't understand why other companies don't do this.
"The main things are the ease of maintenance, and the fact you have to do way less maintenance," he said. "We've only been building them for (30) years, all the original ones we've built are still intact and working… We build them the best way we can."
And parents, don't worry. Your kids won't be able to run around the crawlspace. The entrances will be sealed with crates to prevent anyone curious enough from getting it.
With the nice weather, the pool construction is ahead of schedule, and is expected to be ready in time for Canada's Day. The Open House drew in $1,159.25 for the pool.