Presentation highlights the dangers of distracted driving
Posted on May 5, 2016 by Vauxhall Advance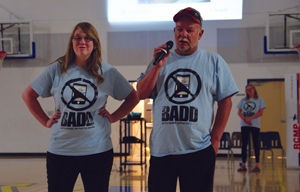 (Photo by Nikki Jamieson) BADD: In the family's first high school visit, Melody and her father Stephen Battle talk about how one text changed their lives, at a distracted driving presentation at Vauxhall High School on Tuesday, May 3.
Nikki Jamieson
Vauxhall Advance
njamieson@tabertimes.com
On May 4, 2013, Melody Battle was 19 years old, driving, a little bit late for work and she had looked down to text her boss.
She had just moved out of her parent's house and was living with friends. She was the social butterfly in her group of friends, enjoyed horseback riding and often drove her friends around.
That day in May was a quiet Saturday morning, the weather was bright and clear, the roads dry, bare, flat and straight and you could see for miles.
She had just started a new job, and was driving down Highway 598 to Rocky Mountain House when she looked away from the road to send a text to her boss, 'I'm running a little bit late'.
Melody doesn't remember what happened after that. Three weeks later, she woke up from a coma at the U of A Hospital in Edmonton, and her life hasn't been the same since.
What had happened was that when she looked down to text, she ran into the back of a road grader. Her car became embedded into the back of the grader, and the grader actually dragged it along as it turned a corner and stopped.
The passenger side of the car was caved in, and police officers found her phone embedded in the dash, with the speedometer 'slaped' at 85 km.
Miraculously, Melody survived the crash.
But she suffered a traumatic brain injury and lost her sight in her right eye. She had to relearn how to speak, walk and eat and lost her ability to cry.
She lost her independence and her friends, because of one decision to look down and text.
"Texting and driving is like the stupidest thing in the world, and no one is important enough to do that," said Melody. "Why would you risk, possibly hitting a road grader, and losing your life and all your friends, just to text and drive? Like, it seems like a simple issue, but it's not. It's serious."
Melody shared her story to the students at Vauxhall High school on Tuesday, May 3, as part of a Distracted Driving presentation to launch their distracted driving campaign, dedicated to the memory of Megan Kondor, who died as a result of a car crash last February.
May is Young Drivers month, and the school had partnered with Taber trucking company Chinook Carriers, for the campaign, presentation and to hold a series of distracted awareness contests.
John Klemen, the general manager of Chinook Carriers, and his wife Kathleen had approached the school to do the campaign, since Vauxhall is home to them and Chinook Carriers does so much business in the area.
"Look at the statistics. What spurred it on to do it now was, I read an article, the Ontario Trucking Association put out a article, and the studies show that distracted driving is the leading cause of accidents and deaths – above alcohol, above speeding – it's distracted driving," said Klemen. "So that kind of hits you like punch in the head."
At the time of her crash, Melody was going around 100 km an hour. Information from the crash site tells us that she hit the brakes and tried to avoid the grader for 19 feet. Unfortunately, at the speed she was going, the car was covering just over 27 metres a second. It would have taken her about 95.15 metres to stop.
As she was driving a car registered to her parents, the officers called them to find out who was driving. Her dad, Stephen Battle, had answered, and was told his daughter was really sick and he needed to go to Edmonton.
"First, you don't know if your daughter is going to live, and to see that she has and she's a totally different girl," said Stephen.
"Things we take for granted, she's lost… She's lost her independence. Every father wants their children to be independent, and to be able to maintain their independence, she lost all that."
It's been three years since then, and Melody is still recovering from the crash.
Recently, her parents and herself have started sharing her story speaking at events such as the Option 4 pilot project – an RCMP project to educated young drivers caught on their cellphones while driving and the dangers of driving while distracted.
The visit to Vauxhall High school was their first school visit, and they hope to launch their non-profit Battle Against Distracted Driving's – BADD for short – website later this month, so that others could share stories like Melody's.
"It's merely education. Playing with your phone while driving, you're texting, you're talking, you can't. I always believed that anyone, anyone can turn their worst into their best. Doing what we did today, was a step in the right direction, doing the best we can possibly do, for everyone else out there."
Sgt. Darrin Turnbull, NCO for the Southern Alberta RCMP, has investigated thousands of injury or fatal collisions during his 19-year career.
It used to be when he would see someone swerving on a road, they were drunk. Now, his first thought is they are distracted.
From 2010-2014 in Alberta, 12,883 young drivers – ages 14-24 – were injured in a crash, and 226 more died as result. With statistics showing that one in five young drivers will be in a collision during their first two years of driving, distracted driving is one of the four leading causes of crashes resulting in serious injury or death.
"We have so many young people who are risking their lives, and tragically, becoming involved in collisions that are so preventable, and they are just distracted, distracted by their friends, their family, their car, whatever else is in the car. Most likely, most often it's their cell phone," said Turnbull.
"Our goal is not enforcement, our goal is reduction of serious injury and fatal collisions. And if it means having a school assembly like we had today, where we're able to share our message and Melody's story with them (youth), where they get to meet somebody who actually went through a crash. They get to see her crash photos, to see what happened to her, to see the science that was involved in investigating her crash and to see the fact that she was able to survive, but she has life-altering injuries… Her dreams? Shattered, in the blink of an eye."
There are new laws on distracted driving in Alberta. Section 115.1(1) of the Traffic Safety Act states that 'no individual shall drive or operate a vehicle on a highway while at the same time (a) holding, viewing or manipulating a cellular telephone, radio communication device or other communication device that is capable of receiving or transmitting telephone communication, electronic data, electronic mail or text messages, or (b) holding, viewing or manipulating a hand-held electronic device or a wireless electronic device'.
Section 115 of the Act goes in to prohibit other activities such as reading, sketching and personal grooming.
"It's just not the text messaging. It's like people are on their phones all day, people are texting while their driving and think it's ok to drive with their knee. No! It's not," said Melody. "I just wouldn't want anyone to go through what I went through."