Tenth anniversary tourney starts today
Posted on May 19, 2016 by Vauxhall Advance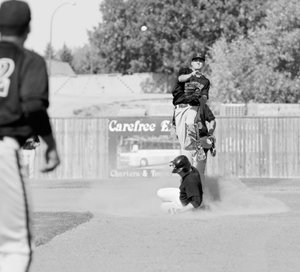 (Advance File Photo) DIAMOND DANDY: The Vauxhall Academy of Baseball is jumping for joy as it celebrates its 10th year of existence with this weekend's tournament.
Greg Price
Vauxhall Advance
gprice@tabertimes.com
As the Vauxhall Academy of Baseball reaches a milestone in its existence, its 10th Annual Haven Agencies Tournament promises to be bigger and better than ever as it starts today.
"A lot has changed over 10 years. We have a couple of alumni coming who haven't been back since Year One. It's exciting to show how much the program has changed and how much we have evolved. It's been a collective effort on many fronts," said Les McTavish, head coach of the Vauxhall Academy of Baseball Jets. "It's a weekend of celebration and we're excited to show the alumni and their families what they helped build. It has been an honour to be a part of it and to work alongside so many good people. We wouldn't be here today if it were not for the players. I look back more than 10 years ago, and the leap of faith those first team's families had coming to Vauxhall. There were no other (Canadian) academies at the time, a precedent was set. They were trusting our community, our school and our coaching staff to develop their sons. They set the path and it went from there."
The 10th Annual Haven Agencies Tournament kicks off today with a 7 p.m. game where the Jets battle the Lethbridge Elks at Jets Stadium.
Play continues in the five-team tournament on Friday at 1 p.m., up until a 7 p.m. game with the Jets playing Calgary Rockies. Saturday's slate starts at 9 a.m. with the Jets battling Medicine Hat Monarchs at 11:30 a.m. and the Great Falls Chargers at 7 p.m. Sunday has games starting at 10 a.m. with the championship going at 4 p.m.
"We will be missing some big pieces (to Team Canada commitments), but every time that has happened, the players have responded," said McTavish. "It's important to get off on the right foot on Thursday night and continue to go from there. It's an exciting weekend, it's a lot of fun. There is going to be a ton of alumni where some families are flying out from the east coast and others coming from places like Texas and Alabama."
Thrown into the tournament is a Texas Scramble golf tournament on Friday at the Vauxhall Golf and Country Club at 1 p.m. with a steak and lobster dinner to follow at Jets Stadium. Jets alumni will be participating in a fun softball game at Jets Stadium on Saturday at 5 p.m. where players, coaches and fans from the tournament can come watch while enjoying a free barbecue.
Saturday will also see a cabaret at 9 p.m. at the Vauxhall Community Hall.