Record turnout for inaugural memorial golf tournament
Posted on June 30, 2016 by Vauxhall Advance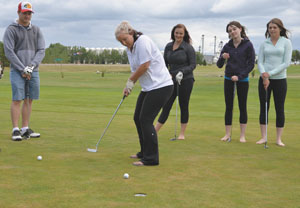 ADVANCE FILE PHOTO
Greg Price
Vauxhall Advance
gprice@tabertimes.com
To say the Felix Mathieu Memorial Golf Tournament at the Enchant Golf Club on Saturday was a success would be putting it lightly — it was the largest golf tournament the course has seen in its existence.
"We had 46 teams of four golfers each," said Joanne Armstrong, president of the Enchant Golf Club board of directors.
"The biggest one we ever had before was 76 golfers."
For those doing the math, that's an increase in golfers for a tournament of nearly 150 per cent in a game that was very close to Felix's heart.
"He played golf. He worked at the golf course and has volunteered at the golf course a lot. He had been president, vice president, he has done treasurer. I think he did every single position on the board except for maybe secretary," said Armstrong.
Organizers thought two time slots would suffice on Saturday at noon and 3 p.m., but it became quickly apparent that would not suffice.
"Before we even opened up the clubhouse in May, we already had the 12 and three o'clock slots filled. Then we got 10 more teams. A few backed out, but that is to be expected," said Armstrong. "We had the golfers and the we probably had an extra 40 people for the supper as well."
It is a testament to the impact Felix had on the Enchant area.
Felix Mathieu passed away in a tragic motorcycle accident in February, leaving his wife and children behind. Approximately 900 people attended his funeral according to Armstrong.
"He volunteered with the Lions Club, he was on the park board, he was on the rec board. He did a lot of the organization for Enchant's 100th two years ago. He was really active in the community."
The fundraiser benefited the golf course by recommendation of the family in which the golf club has been able to embark on some projects.
Felix helped organize things last year for the golf club which got a new golf cart shed and now the club is in the process of building a new shop.
"It was Felix's dream to have a new shop for probably the last 10 years," said Armstrong.
"We are going to go ahead with it. They have the walls up and they started tinning it (Tuesday). We have had a lot of people come out and work on it. We will store all our tractors and equipment in there."