Pig Roast was bigger than ever
Posted on August 11, 2016 by Vauxhall Advance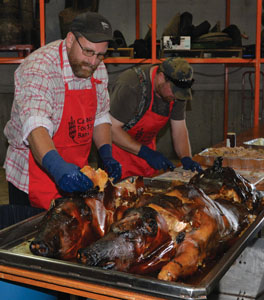 ADVANCE FILE PHOTO
By Nikki Jamieson
Vauxhall Advance
njamieson@tabertimes.com
Thanks to the generosity of those who live in the Vauxhall area and beyond, the 12th annual BBQ and Pig Roast was a resounding success.
The Vauxhall and District Foodgrains Growing Project fed about 430 — up from 400 the previous year — and raised $36,000 during its 12th annual Pig Roast.
That's $10,000 more than what was raised the previous year.
"I would like to thank the local community for stepping up in such a big way with the turn out and donations, it's great to see so many people in one building for the same cause," said Tim van Der Hoek, Vauxhall Foodgrains Growing Project director. "With this larger attendance and funds hopefully we can maintain the $100,000 that we have sent the last couple of years."
The annual pig roast helps the project manage it's operating costs, so that it can send the entirety of the funds raised from the sale of its products to developing countries.
The Project is still selling tickets for the drone, a Phantom 3 Profesional, with tickets available for purchase at Haven Agencies, YPM and Home Town Hardware. For those wanting to take a look at the drone, it will be available for viewing at one of the three businesses.
The Canadian Foodgrains Bank started in 1983, and is a partnership of churches and church-based organizations throughout the country, working to end global hunger. Food is distributed based on need, regardless of religious or political affiliation. They do not ship Canadian grain overseas anymore, as grain donations are now sold on the Canadian market and food is bought closer to the area of need.
Projects like the one in Vauxhall help raise money for the Canadian Foodgrains Bank, which in turn helps those who need food abroad. Last year, the organization did 125 different projects in nine different countries.
"It's great to see how a large group of people get together and believe that hunger is unacceptable, and together, they're raising funds to stop hunger… wherever people do not have enough food," said Andre Visscher, the Southern Alberta Regional Coordinator for the Canadian Foodgrains Bank, during the pig roast fundraiser.
"It's really a community project, everybody is supporting it, and that is very moving, to see that."
Through growing projects such as the one in Vauxhall, groups of people plant, tend, harvest and then sell the crop, with the proceeds from the sale being donated to the Foodgrains Bank.