Solar power project open house held
Posted on August 18, 2016 by Vauxhall Advance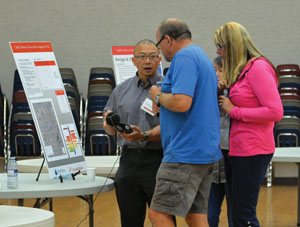 (Photo by Nikki Jamieson) SUN POWER: Jonathon Chui (left), a noise specialist consulting on the Vauxhall Solar Project, talks to Dirk (centre) and Eveline Geerligs (right) during the project's open house on Tuesday, Aug. 9.
By Nikki Jamieson
Vauxhall Advance
njamieson@tabertimes.com
Amidst the threat of rain, an open house for a proposed solar power site near Vauxhall opened its doors on Aug. 9.
The open house, hosted by Bowmont Capital & Advisory Ltd. and Canadian Solar Solutions Inc., who partnered together on behalf of C&B Alberta Solar Development ULC (CBA), to jointly develop the Vauxhall Solar project, aimed to share information on the site to residents of the area.
Photovoltaic (PV) — the conversion of light into electricity using semi-conductive materials — potentials in Canada range anywhere from 700-1,400 kWh/kW. The southeastern corner of Alberta has one of the highest PV potentials in Canada, with a range of 1,300-1,400 kWh/kW. The joint venture will be constructing six solar sites in this area, three in the Municipal District of Taber by Hays, Vauxhall and Taber, and three located by Jenner, Tilley and Suffield.
This, combined with the Alberta government's plan to phase out coal-generated power in Alberta entirely by 2030 — replacing two-thirds with green energy and one-third with natural gas — and their push for green energy systems, has made it a very attractive area for solar companies to invest in.
"When the government announced this Climate Leadership Plan here in Alberta, the desire to build all this renewable energy, they were attracted to it," said Ian Sanchez, managing director of Bowmont Capital & Advisory Ltd., of Bowmont's partner Canadian Solar, who has been building solar panels in Canada for many years. "The government's decision to decommission 6,000 megawatts of coal and replace it with 4,000 megawatts of renewables, is a big driver. To get that, they are running a Renewable Energy Procurement, which is going to start this fall, where they are going to auction off long term contracts, to purchase the green attributes from these types of facilities."
The proposed solar plant is situated north of Vauxhall, on the right side of Highway 3, just past the junction of Highway 524. The substation that the plant will be sending its power to is one-and-a-half kilometres away, on Township Road 134.
Typically, substations have a capacity limit of up to 23 megawatts of energy. The three stations they have planned in the M.D. — the Hays, Taber and Vauxhall projects— will produce 16-22 megawatts. Producing this close to the transmission load helps reduce potential energy loss.
"You want to build as big as you can, because of scale economies," said Sanchez. "But you don't want to go too big, because you either hit those physical limits, or there's not enough load on the substation and then it becomes less optimal."
The Vauxhall site will cover about 149 acres, and it will be a 16 megawatt project, producing about 31 gigawatt hours of electricity every year, enough to power 4,400 houses a year.
"Right now, coal supplies a little over 50 per cent of our electricity, in our province. So they want to phase out 6,000 megawatts of coal by 2030, and they want to replace 4,000 megawatts of it with renewable resources," said Sanchez. "Most renewable resources are intermittent — solar only produces during the day, wind only produces when its windy."
"So yes, you would need firm or back-up power, which would typically come from natural gas," said Sanchez. "That's (what) the proposal is, on a go-forward basis, because we're not going to have any more coal."
While sparsely attended, those who stopped by had questions on the project they wanted answered, whether it was because they just didn't have enough information or they had specific concerns with the site.
"We're going to be close neighbours," said Dirk Geerligs, a local farmer who lives within a quarter mile of the site. "Maybe it's far fetched, but it could have an impact on us."
Geerligs cited health and property values as concerns, due to his home's immediate proximity to the site. He also does not think that the site should be on irrigated property. He would appreciate some more answers, although adding that he wasn't going to be "laying in the middle of the road when construction starts".
"This is primary, irrigated land. I think there is a lot of marginal land available, where they could decide on," said Geerligs. "It wasn't really that they went around and asked a lot of people if they had land available."
"Solar farms are great, it's just right next door to our property, and that's where we have the concern. There is a lot of unknowns."
Marginal land is typically defined as land where nothing can really grow. In this case, while the property the solar site will be on is considered to be irrigated land, the portion of land the solar site is going on is located outside of the pivot circle, along the property line where the irrigation canal, making it more like dry land.
While it could be irrigated, it is very hard to do so, making it, in turn, difficult to farm on.
Bowmont and Canadian Solar have also indicated that they would be doing some landscaping — such as planting trees — to help with the visual aspect of the site.
While this marks Bowmont Capital's first foray into solar energy, Canadian Solar has been building solar plants since they were founded in 2001, and manage over 40 sites in Ontario and others worldwide.
Mayor Margaret Plumtree got a chance to see some solar sites when she was in Ontario earlier this summer, where she saw a lot of solar panels located on private land, and noted they did not attract from the aesthetics of the land.
"Even in areas where they had pasture lands, I noticed they just put the solar panels up higher, so the animals underneath (could) feed. They were just right up higher," said Margaret Plumtree, who attended the open house to find out more about the project herself. "Definitely, with the direction of the province right now, this is one of the types of projects they are looking at us to do, for the future."
While the land it is located on does fall within the Municipal District of Taber boundaries, the land is being leased from a private landowner, and the facility must follow the approval process set by the Alberta Utility Commission, to which they will be submitting for approval or assessment this year.
Additionally, as the solar amendment to the M.D.'s land-use bylaw concerns private-use, and not industrial projects, the M.D. will have little to do with the project, with the exception of property tax revenue.
"They get a development permit through us, but the AUC makes the final decision," said Dwight Tolton, M.D. councillor."(The bylaw amendment) is for individuals that have got solar panels on their own property, so they're not taxed as a commercial operation — I think it's one kilowatt or under, you're still as a home or agriculture unit, because of the size.
"This is based and taxed on a different level, then somebody who's got two solar panels to supplement their house."
A potential fourth solar project on land owned by the M.D. is being discussed by the two parties, but must gain M.D. approval first before going to the AUC for application, which may take a while, as "We got to make sure we're doing it right, on our end."
If all goes smoothly, construction on the site will begin in early 2018, with the site running by early 2019.