No limit borrowing will lead to $2 billion interest payment; Schneider
Posted on August 25, 2016 by Vauxhall Advance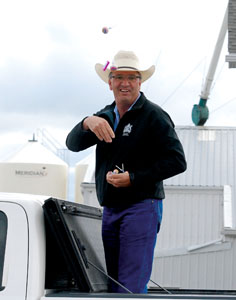 ADVANCE FILE PHOTO.
By Nikki Jamieson
Vauxhall Advance
njamieson@tabertimes.com
With the end of the spring session of the Alberta Legislature, Bill 10 came into force.
While the name of the bill — Fiscal Statute Amendment Act — causes little alarm, what the bill allows the NDP government to do causes just that for the Wildrose opposition, since it allows the government to continue to borrow.
Last fall, the NDP government introduced and passed Bill 4 — an Act to Implement Various Tax Measures and to Enact the Fiscal Planning and Transparency Act — which allowed for a maximum cap of 15 per cent debt, into legislation. Now however, Bill 10 eliminates that cap, allowing government to continue to borrow regardless of debt.
"The government had imposed a borrowing limit of 15 per cent of Gross Domestic Product (GDP) of Alberta," said Dave Schneider, MLA for Little Bow.
"This spring, the NDP removed that cap with Bill 10. And as it stands right now, there is no limit to what the government can borrow in Alberta. The sky is the limit as far as debt borrowing is concerned."
At this rate, Schneider says, in two years Alberta will be looking at a yearly interest payment of $2 billion, and that figure doesn't include actually paying anything owed back — it's a pure interest payment.
"How many nurses, I wonder, could you hire with that? Or how many teachers, could you hire? How many doctors? How many schools could you build? I mean, those are all hypotheticals," said Schneider.
"But I would suggest that the limit of 15 per cent before this legislation was risky.
"Now, there is no question."
Schneider points to the credit downgrades from bond rating agencies Standard & Poor's, Dominion Bond Rating Service (DBRS) and Moody's Investors Service. The latter two had downgraded Alberta's credit rating from the their previous coveted highest rating, from AAA to AA(high) and from Aaa to Aa1 respectfully in April, while S&P had downgraded the rating twice, once in December from AAA to AA+, and again in May to AA.
He fully expects to see another credit downgrading in the next few months, as he says that the NDP have not shown a plan to repay the $58 billion they are forecast to borrow by 2019.
"When you haven't got a plan, the people that actually sign those bonds begin to get nervous."
Back in the spring session, the Wildrose had put forward a list of 10 budget recommendations that Schneider says would have saved $2 billion in the spring budget, without cutting front-line services.
Those recommendations included a hiring freeze for government ministry workers, no wage or position increases for the rest of the public sector except for new teachers, preform program reviews to streamline operational spending to the front lines and reduce government of Alberta travel by 50 per cent.
"However, the NDP would not have any part of entertaining any of those ideas, and that motion was defeated as well."