Pink Trail rides through Vauxhall
Posted on August 25, 2016 by Vauxhall Advance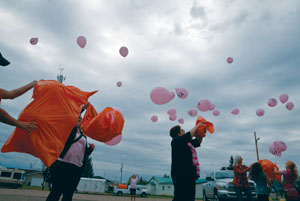 (Photo by Nikki Jamieson) SPOTS OF PINK: Pink balloons, with names of loved ones who have battled cancer written on them, were released outside of the Vauxhall Community Hall last Thursday, Aug. 18, before the Wild Pink Yonder Riders hit the road again, this time to Carmangay.
By Nikki Jamieson
Vauxhall Advance
njamieson@tabertimes.com
The Pink Trail has come and gone through Vauxhall, and with it brings us a step closer to a cure for breast cancer.
In its eighth stop in a 23-day ride, the Wild Pink Yonder Riders paraded through the streets of Vauxhall, before getting a chance to help move cattle on Aug. 17, and were treated to a pancake breakfast on Aug. 18.
"We rode through kind of the coulees and moved a group of cattle with them a quarter mile," said Chad Kellet, who hosted the group on his grazing lease six miles south of town.
"They were a fun group to take out, and spend the afternoon with and have supper with, and to hear their stories and what some of the ladies on the trail ride have gone through, is kind of neat."
The ride started on Aug. 12 in Stirling. From there they rode to Sandstone Ranch, then to Coutts and Writing-on-Stone Provincial Park for two days and back up north to Raymond, where they rode through the 110,000 acre Knight Ranch.
"They rode down into the Milk River valley, and up into the ridge. And they would sit there on top of the ridge, and in all four directions that they'd look, they couldn't see the end of the Knight ranch," said Jane Hurl, Trail Boss and Wild Pink Yonder organizer.
The riders then travelled to Coalhurst, where they rode through Pavan Park in Lethbridge, and finally, they arrived in Vauxhall.
During the Pancake breakfast, a raffle was held, which raised over $3,200 for the ride. Afterwards, there was a balloon released with names of loved ones who had cancer. Wild Pink Yonder riders then travelled west to Carmangay, before heading north to Arrowwood, River's Edge Camp, saw wild horses in the mountains on the North 40 Ranch, Drumheller, Olds, Ajax and Big Valley over the past few days. The ride is expected to end in Lamont on Sept. 4.
"We've got some wonderful things happening in some of the towns that we're visiting," said Hurl. "I see nothing but blue skies."
All funds raised by the ride go to the Cancer Research Institute of Northern Alberta. Sponsored by the University of Alberta, CRINA is one of three multidisciplinary Translational Science Institutes, which promotes collaboration between researchers and discoveries in fields such as agriculture to find a cure.