Travelling Mabels performing in Vauxhall
Posted on September 1, 2016 by Vauxhall Advance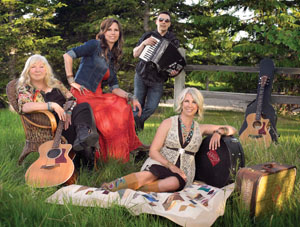 (Photo submitted) HARMONY: The Travelling Mabels — (left to right) Eva Levesque, Lana Floen, Keith Floen and Suzanne Levesque — will be performing in Vauxhall at the Jets Stadium on Sept. 9.
By Nikki Jamieson
Vauxhall Advance
njamieson@tabertimes.com
In their debut Vauxhall performance, the Travelling Mabels will be singing for the fences.
The Travelling Mabels are a country/folk group who began performing together eight years ago. While all four are from Alberta, they didn't start singing together until one night in Winnipeg, eight years ago. Suzanne Levesque had been nominated for the Association of Country Music in Alberta's Bass Player of the Year award, and she and Lana Floen had travelled to Winnipeg together, where they met up with Suzanne's mom, Eva Levesque.
"We were all friends prior to, sort of. We were musical friends," said Lana, guitar player and singer in the Travelling Mabels.
"While we were there, we were asked to get up and sing together, and we had never sang together. But we decided we would, and we got up and by the time we were done we had about three cards from people, and we really felt that the harmonies were really quite good. So, we just knew there was something special there."
Joined by Keith Floen, their music naturally lends itself to storytelling, working in with their different musical backgrounds and experiences. Since the group's founding, they have been named the 2011 Group Of The Year by the CCMA, and have toured throughout Canada, performing and telling stories.
"We do a variety, because we know our audiences like variety. And we all came from different musical paths," said Lana.
"That's really the sound of the Mabels. The foundation is the three-part harmony, and they're story tellers," said Keith. "Everyone likes to write their own music, so we have lots to tell. Everyone has a story or likes to write some sort of a story."
The group consists of four members; Eva (Mama Mabel) on vocals and guitar, Lana (Purdy Mabel) on vocals and guitar, Suzanne (Baby Mabel) on vocals and bass and Keith (Unstable Mabel) on piano, accordion and accompaniment.
"It's just something that happened, I think Eva started it," said Keith, of the origin of the group's nicknames. "She would call Sue 'Baby Mabel' and she would call Lana 'Purdy Mabel', and they would call her 'Mama Mabel'. And surely, they had to give one to me."
"Apparently, I'm 'Unstable Mabel'. Perhaps well earned, who knows," added Keith with a laugh.
The group knows Taberite Corbie Dorner, who will be opening for them during their debut Vauxhall performance. Keith and Dorner had worked together doing piano work in Calgary, so when Dorner's uncle was working on organizing the event, they all agreed that Dorner would open.
"(Dorner's) a wonderful, talented artist in his own right," said Keith.
The Travelling Mabels will be in Vauxhall on Sept. 9 at 7 p.m., where they will be performing at Jets Stadium.
In addition to covers of songs everyone knows and loves, they will be featuring songs off their latest album 'Postcards', which is available online and on iTunes.
"The love of the music, really it's just something you have," said Lana.
"It's looking out and seeing their faces and that connection," said Keith, on performing. "Especially with each of them being a storyteller, when you can connect with people and see they're relating, they're going along on the ride with you, that's first and foremost.
"Bringing people laughter and the enjoyment of music, that interaction."