Vauxhall Elementary putting big push on numeracy skills
Posted on September 16, 2016 by Vauxhall Advance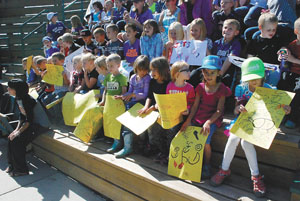 (Photo by Greg Price) FAN FAVOURITE: Students from Vauxhall Elementary School were out in droves last Wednesday to help cheer on the Vauxhall Academy of Baseball Jets, as the high school was celebrating its Spirit Day.
By Greg Price
Vauxhall Advance
gprice@tabertimes.com
Another fall brings another promise of a good school year for Vauxhall Elementary School.
"The start of our year has been excellent. What we really want to focus on this year is numeracy. We, of course, do everything with literacy still, but we just want to get better teaching numeracy to our students with best practices with math instruction," said Dale Cummings, principal at Vauxhall Elementary School. "We will also be coming up with some intervention programs to help kids that may be lagging behind."
For new staff for the school, Catherine Eberl is teaching Grade 5 Math, Grade 6 Math, Grade 1 Science and a few option classes.
Amber Kallen is returning to Vauxhall Elementary, filling in on a temporary assignment, teaching Grade 4.
The school enrollment at Vauxhall Elementary is fairly consistent for the 2016/2017 school year, with a slight drop of five students.
"What we are rolling out this year that is new is division-wide report cards," said Cummings. "That is a learning experience for us and the parents because it is a little different. It is standard-based assessment more than anything. It is something we are going to have to teach the parents with the changes."
Vauxhall Elementary has been enjoying its Spirit Week this week with its Climate Teams started with a challenge that was done yesterday.
"It's 10 cross-graded climate teams that try and earn points all year on various activities to try and win the Climate Cup," said Cummings. "Yesterday it was things like tug-of-war and shoe races to help with school spirit."
There is a back-to-school barbecue schedule for today at 5:30 p.m. and the school's Terry Fox Run is on Friday at 11:15 a.m.
"I'm looking forward to a great year with a super staff and super students."