Spurs alumni enters Wall of Fame
Posted on November 24, 2016 by Vauxhall Advance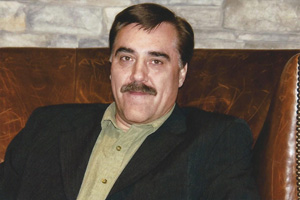 Dave Petek
By Nikki Jamieson
Vauxhall Advance
njamieson@tabertimes.com
For Dave Petek, throughout his life, if he saw a need somewhere he would try to fill it.
Petek is one of the entrants to Vauxhall High School's Wall of Fame for 2016. He was nominated by his sister, Cindy Blokker, after she found out just how much he accomplished in his over 30 years of experience in the oil and gas industry.
"In the spring, I had become aware of a Life Time Achievement Award Dave had received," said Cindy Blokker, Petek's sister and nominator, on why she decided to nominate him.
"I had always known that he had several business ventures on the go, personal and in the oil and gas industry, and it wasn't until I did some research that I became aware of how much he has achieved."
"It's nice to be recognized. You know, once you move away from a small town and go on to do the things you do, I think a lot of people, in fact honestly, I don't even think my family, they don't even realize what I've done over the last 30 years per say," said Petek with a laugh.
Petek had graduated from Vauxhall High School in 1982. During his high school years, he was a member of the very first teams for the Vauxhall Spurs and Vikings baseball teams, as well as the Vikings volleyball team. During his high school days, he was also a member of the Vauxhall 4-H Beef Club.
After graduating, he attended the University of Lethbridge, where he played on the university's hockey team while he studied business. In 1986, he switched schools to attend the Northern Alberta Institute of Technology, where he took Petroleum Engineering Technology.
After graduating from NAIT, he got a job in 1988 as a production technologist, later becoming a Supervisor of Production Engineering Technology for Western Canada for technical departments for Petro Canada and Suncor, when they bought the small company he was working for.
"In about 1996, the company I was working for got purchased by Petro Canada, and they released that some things we were doing in this small oil and gas company were superior to what they were doing," said Petek, adding that he and a few others were flown to Calgary to teach others about what they were doing.
"I got thrust into a leadership position, looking after some technical departments here in Calgary, and as a result of that, I got into industry a little deeper here.
"Recognized some issues that were in the industry and weren't working out quite that well, so we had a little group of five of us get together to talk about some of the issues we were having, and that's when the formation of that Industry Measurement Group — IMG — we decided to build this group to address these issues around the entire industry, whether then just amongst ourselves."
In 1998, he was one of the five founding members of IMG, a non-profit whose goal is to improve knowledge, education and regulations for the measurement of oil and gas product, for which he also became the first chair. In 2002, he founded and chaired the Canadian School of Hydrocarbon Measurement, an educational forum in Calgary and Grande Prairie.
Due to the creation of these two organizations, over 10,000 people have received measurement training, and in March earlier this year, he was awarded the Lifetime Achievement Award from the school.
"Basically, just saw a need that needed to be met, and nobody else was filling the need," said Petek. "There were some voids in the industry, and I just decided they need to get done, so I stepped up and got them done."
Petek created and serves as the director and chairman for the Canadian Artificial Lift School since 2005, and sits on the Artificial Lift Advisory Committee for Enform — an industry-sponsored organization that supplies safety and technical training to those working in the oil and gas industry — and is the director of Tek Consulting.
Petek has also created scholarships for student at NAIT and the Southern Alberta Institution of Technology, and recently created a training-partnership with the latter.
"We co-developed a measurement program for them, so they can teach students within their facility, as well as do online educating to anyone in, I guess, North America and all around the world."
Outside of the oil and gas industry, he is the franchisee for the Taber Boston Pizza, and is the vice-president and director of Siftgrid Technologies Inc., a software company that is based in Calgary, San Francisco and Bangalore, India.
"We're gearing up to release in second or third quarter this year, we'll probably start testing our product shortly," said Petek.
"It's hard to describe, but it's simply not an app, and it's simply not one application for the oil and gas industry. We're bringing a bunch of technologies, a bunch of applications all together under one piece of software, using the latest and greatest technology.
"A real rough example would be we're building software for the oil and gas industry, which is similar to what maybe Netflix would be for watching movies."
Petek coached and managed baseball and hockey teams, and had set up a sports goods store with discounted hockey equipment.
Although he now lives in Airdrie with his wife and two sons, Petek continues to stay active in Vauxhall, by attending the Canada Day celebrations and Spurs alumni games and contributing to VHS and local 4-H clubs.
According to his sister, he has also been known to provide meals to those at a time of loss, and to bring a former teacher a favoured pasta recipe "on occasion."
"Dave has always valued his family and puts just as much effort into his family relationships as business," said Blokker.
"He is the problem solver, support system and the hand up. As a family, we receive a humble compassionate side of Dave and see that this often filters into his interactions within the community, friends and strangers."
"It's nice to get recognized for what you've done, what you've left your little town and gone on to the bigger world and get recognized in your hometown for some of the things you've done," said Petek.
Dave Petek and Kathy Wolfer will be honoured at VHS' 22nd Annual Fundraiser on Saturday, Nov. 26. Tickets for the event are $65 for a couple, or $35 for a single, and can be purchased from any VHS student or by calling the high school at 403-654-2145.