MLA reflects on year that was 2016
Posted on January 12, 2017 by Vauxhall Advance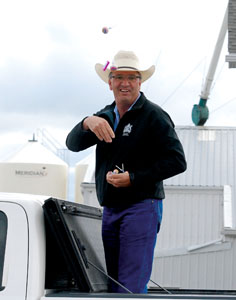 ADVANCE FILE PHOTO.
By Nikki Jamieson
Vauxhall Advance
njamieson@tabertimes.com
As session starts in the beginning of 2017, Little Bow MLA Dave Schneider will be stepping into a new role within the Wildrose Opposition.
"Our caucus has had a Shadow Minister cabinet shuffle, I am now the Critic for Agriculture and Forestry," said Schneider. "I look forward to continuing the good work of the fellow MLA (Rick Strankman, Drumheller-Stettler) that had this role before me."
At the end of 2016, the Wildrose party produced an independent report, by their Equalization Fairness Panel.
The report, commissioned in order to create an action plan to prevent the decline of the province's energy sector, studied equalization payments in the country and recommended that the equalization formula be overhauled. Also, that recipient provinces with relatively high program delivery costs reduce their expenses so their per capita costs of providing programming would not exceed the national average, non-renewable resource revenue not be included in cases of debt repayment or investment in a heritage fund/equalization but included if used for ordinary operating programs. Finally, to make reforms to the Employment Insurance Program and for Alberta to create a commission to continuously review fiscal arrangements of the federation.
Although the report was ultimately rejected by the NDP, Schneider believes the report was a good moment for the Wildrose.
Schneider is proud of the work done in the house, such as the Wildrose party's recommendation to reform the province's adoption system.
After doing consultations with adoptive families, adoption centres and other stakeholders to develop the report's recommendations, which was the basis for a private members bill, presented by Wildrose member Leela Aheer, MLA for Chestermere-Rocky View.
She plans to present the bill during the next legislative session.
The report's recommendations are updating the current advertising legislation to reflect the use of modern technology, implementing a mandatory visit by an adoption professional for an adoptive family in order to ensure that they are aware of all community resources available to them and strengthening Public Health Postnatal Services and removing the mandatory use of Child and Family Services when a birth parent expresses interest in adoption.
"The recommendations that we are proposing remove barriers and make the system as accommodating as possible for all involved, which would make a positive impact on the adoption process," said Schneider.
"We have the responsibility as legislators to listen and push for changes that are long overdue."
Another moment was when all opposition parties — Wildrose, Liberal, PC and Alberta Party — united against a proposed panel framework, put forth by the Human Services Minister Irfan Sabir, MLA of Calgary-McCall, to investigate children in care.
Believing that it wasn't transparent or manage information efficiently, they had whistleblower protection added to it and had the minister removed from the panel so he could testify and be questioned.
"The opposition parties as a whole understood that the children in care file is too important to continue with panels and reports that gather dust for years with no action. The opportunity to provide important changes for our children in care system is important, and we need to get this right."
There were plenty of challenges though of course. With the NDP holding a majority of 55 out of the 87 seats in the legislature, the Wildrose opposition — which holds 22 of those seats — along with the PC, Liberal and Alberta Party members, had their work cut out for them when it came to putting through amendments or legislation and objecting to some bills.
"We offered 38 solid amendments to eight bad pieces of legislation, of which three were passed. That certainly is something to be proud of, but I couldn't be accurate as to how many hours that were spent talking in the house about the bad direction that several bills were talking Alberta," said Schneider.
"We ask questions in the house every day, that Albertans want answers to. It is very seldom that we actually receive an answer to the question. But we will continue to ask important questions. The fact that the NDP doesn't answer the questions is important to Albertans,and how they see their government acting when they are legitimately put in a position to answer to their bosses; Albertans."
In 2017, Schneider hopes the NDP government will "push the pause button", and wait and see how their policies are effecting Albertans, and tour the province outside of session to see what people think of their policies, since, from what he is hearing, they are not.
"We stood toe to toe with all opposition party's against several bad pieces of Government legislation; the Climate Leadership Implementation Act, the Fiscal Statutes Amendment Act, the Oil Sands Emissions Limit Act, the Electric Utilities Amendment Act and the Fair Elections Financing Act. Wouldn't one think, that if all apposition members are against bills that are being rammed through the House, that there might be something wrong with them? The opposition parties represent Albertans too. Those Albertans voices weren't being listened to."
Looking forward in 2017, Schneider's riding will have the infamous Bill 6 to look forward to, even though it's regulations haven't been written yet, despite coming into force a year ago.
"It really does make you wonder why there was such a rush to push this Bill through the house. I have said it before, this government has been putting the cart before the horse since it took office. Which clearly indicates an ideological agenda with little regard for those that it affects. Constituents are recognizing this and I'm hearing from them."
The Wildrose also plan on studying the NDP's plan to have Alberta power created from 30 per cent renewables by 2020, and just what, exactly, it would cost Albertans. Along with the debt concern — and subsequent credit downgrades — 2017 will be anything but boring for them.
"I think it would also be safe to say that our constituents expect us to continue the good fight, and to continue to hold the government accountable. The only voice that constituents have with the Government is through their MLA's."