Winter wonderland includes ice sculpture among the Vauxhall scenery
Posted on January 12, 2017 by Vauxhall Advance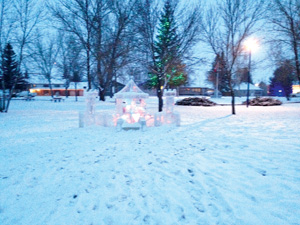 (Photo submitted) FROZEN PALACE: Adam Steed built the ice castle in the Vauxhall Legion Park in early December. Ice sculptors are a hobby of his, and he thought the spot and the community needed one.
By Nikki Jamieson
Vauxhall Advance
njamieson@tabertimes.com
Adam Steed doesn't consider himself to be much of an artist. But that doesn't stop him from leaving a trail of ice sculptures wherever he goes.
"My brother and sisters were always more talented then me, so I kind of stayed in the background I guess," said Steed. "It's kind of my way to bring some, a bit of cheer into the community, that's different than normal."
Residents of Vauxhall might have noticed the castle that had popped up in the middle of the local park. That's the handiwork of Steed, who, with the help of a chainsaw and a tiger torch, does ice sculpting as a hobby.
"I do work wherever I go, and you get to know people, get to know their children, it's just something fun for the holidays," said Steed, adding he plans on doing a few more in Saskatchewan this season. "My favourite part is the enjoyment it brings to the community."
Having started doing it when he was 17 years-old, Steed's into ice sculpting was one of those things that just sort of happened, and he admits that he is a little unsure of why he starting doing it. But since then, once the weather starts getting colder, he starts creating. Although home base is in Saskatchewan, his work as a contractor keeps him mobile, and he was in Vauxhall early on in December, and decided to create one for the town.
"I was driving through there, and I just liked that town (of Vauxhall). I just really liked the feel of that place," said Steed. "I was doing some work there, and got to know a few of the locals."
"It just felt like it should have an ice castle there."
Castles are his favourite thing to sculpt, and lights were also added to the castle because it helped bring it alive at night, and "it makes it pretty". Doing "a bit of everything" in his line of work, Steed stresses that he is only doing it as a hobby, for the enjoyment it brings other people.
"You go into a little town, and the children and the people they've never seen that kind of stuff. It's just fun to do it, and people are just fascinated. It kind of opens up a little bit of a world, where maybe the children would really see that."