Throne speech leaves some questions unanswered; MLA Schneider
Posted on March 9, 2017 by Vauxhall Advance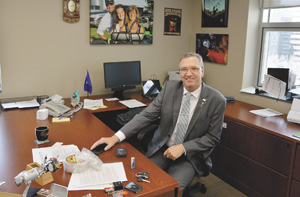 ADVANCE FILE PHOTO.
By Nikki Jamieson
Vauxhall Advance
njamieson@tabertimes.com
For the first time in a few years, agriculture was mentioned in the throne speech last week, delivered by Lieutenant Governor Lois E. Mitchell.
This made Dave Schneider, MLA for Little Bow and the Wildrose shadow minister for Agriculture, glad. With 2017 the third session of the 29th legislature marking his first session as shadow agriculture minister, it was nice to hear the ag industry get some notice, even if it was only for a minute.
"They did say the word this time. Mentioned in passing, yeah," said Schneider. "Still, this is our number two industry in the province. Forestry is probably number three, and you didn't hear anything about forestry, either."
Speaking from his office in Wilrose headquaters after the speech, he found it curious that they did not mention the Keystone XL pipeline at all. With the recent approval of that pipeline, along with premier Rachel Notley's recent visit to meet with U.S. leaders, he wanted to know why that didn't warrant a mention.
"This is a go. Our premier just got back from down there, did she not talk to anybody about Keystone XL? Just a question."
Although no pipelines have been built yet, there are still plenty of challenges to face. Schneider predicts there will be a lot of protests, some similar to the ones at Standing Rock, that will occur. Adding on to it was the concern of a NDP government getting in with the next B.C. provincial election. As the B.C. NDP does not want any pipelines to be built, it could prove problematic.
"They didn't talk about the fact that the NDP government might win the election in B.C. where it's actually heading, and those people are not in favour of the pipeline. The same government, but they're going to block it," said Schneider. "The NDP knows that there is going to be a lot of protests, a lot of what you saw in the states, North Dakota… A lot of Indigenous people probably, certainly left-wing radicals and environmentalists will be doing everything they can to stop these pipelines, there's no question there."
"This is our bread and butter. Every province in the country would like what we have, and that's just a fact. And we'll be exporting oil here for a long time after the NDP are gone, and they're actually on board."
Noting that the NDP have changed their position on something they called "dirty oil", Schneider is still glad about the pipeline news.
"We're talking about pipelines now, and we're getting excited about making Alberta wealthy again, which is good, I would say a good part of the speech to the throne."
Schneider remains unimpressed with the NDP's green energy program, or getting 30 per cent of Alberta's energy from renewable sources. As all coal plants would be shut down should they remain in power, he assumes that the rest of the energy would come from natural gas. There will be 20-year contracts for renewable energy plants that will start to be awarded later this year.
"Those contracts are the problem, as renewable energy cannot survive without government subsidies, it's just that simple. If it could, it would be everywhere."
Pointing out that the windmills in the province are not manufactured province, and the company that replaces lightbulbs and installs low-flow showers as part of an government program is from Ontario, Schneider notes that "we can't even hire local people to finish their philosophy".
Another item of concern was the NDP's plan to add 5,000 new megawatts of renewable energy capacity to the grid. Currently, Alberta uses about 10,000 megawatts of energy.
With the aid of an app that tracks energy production in Alberta called Megawatts Alberta, on March 3, after the throne speech, wind power produced 8.9 per cent, with Schneider adding that "it must be windy somewhere".  Natural gas was the province's top produce at 44.9 per cent, while coal produced 41.9 per cent of the province's power. At the moment, about 10,000 megawatts was being produced, with about 9,000 of which produced by gas and coal.
"If they are talking about 5,000 new megawatts, well we only need about 10. We got into a little bit of a situation here, I think it was last month, we started using 11,000 megawatts in one day, which was a record," said Schneider, adding that one wind farm in his riding was producing 262 megawatts of power. "It's windy down in (my riding) today. That is probably more than I've ever seen there, because these things, they only burn, at best, 33 per cent of capacity, so a 300 megawatt generator on one of those things, 33 per cent. It never gets at full capacity, it just doesn't work because the wind doesn't blow all the time."
As cutting school fees was something the NDP had campaigned on, he wasn't all that surprised by its mention in the throne speech, or by the announcement of Bill 1, an Act to Reduce School Fees.
"We will actually be quite happy to see that the government finally gets  this done after two years. Parents who have had enough with these type of mandatory fees have been telling us that for some time. This would really be a victory for them."
The bill would amend the School Act, and according to the bill's preamble, the Alberta government is committed to reducing the financial burden of school and transportation fees on families, and that "the public education system should be accessible to all students, and fees should not present a barrier to achieving core learning outcomes".
As he hasn't reviewed the bill yet, he hasn't made up his mind on it, although he expects some lengthy debate on it, noting that it will be "a tough one".