M.D. council noting discrepancy in quality of websites
Posted on April 6, 2017 by Vauxhall Advance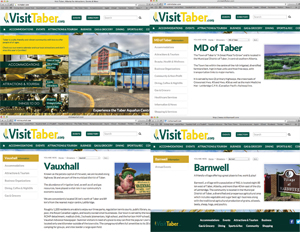 Screenshots of all four Visit websites.
By Nikki Jamieson
Vauxhall Advance
njamieson@tabertimes.com
It is tricky business getting websites right the first time around.
After having some trouble in the past getting various websites for local communities up and running, the official sites for Visit Taber, Visit Barnwell,Visit M.D. Taber and Visit Vauxhall are now all up and running. However, there appears to be a glaring mistake in the creation of the websites.
As discussed during the regular March 28 meeting of the Municipal District of Taber council, a lot more effort seemed to have gone into the Taber website, while the corresponding websites for Barnwell, Vauxhall and the M.D. of Taber seem to have been after thoughts.
"Just compare the websites here," said Bob Wallace, M.D. councillor. "The websites aren't quite the same."
The websites were a Joint Economic Development Committee initiative aimed at promoting what the areas had to offer. While the Taber website's home page features a scrolling feature menu, the Barnwell, M.D. and Vauxhall websites feature a short write up with a small picture, and at the top of their pages, all featured a prominent link that read 'visittaber.com' that, upon clicking on it, will reroute the visitor to the Visit Taber homepage.
Although Wallace agreed with Reeve Brian Brewin point that it "would be hard to get a list of restaurants in Barnwell", the websites weren't up to the same caliber.
A few campgrounds were also missing from the site, with Brewin noting that the Forks and Grassy Lake campgrounds weren't among the ones listed.
"Certainly some work there," said Brewin.
Although Visit Taber has been up and running since last year, the other websites were only done recently.
Wallace said they had all contribute funding equally, three of the four websites came along later and they were not done to the same standard as the Taber one, expressing worry that the JEDC was favouring one community over the others.
"I did bring it up, and if you read the minutes there, I was slammed pretty hard for actually bringing it up," said Wallace.
According to the minutes of the Jan. 25 meeting of the JEDC, under additional information, it reads, "Joe Strojwas discussed his disappointment with Bob Wallace's comments in an email thread about the delay on the visitvauxhall.com and visitbarnwell.com websites. Community Futures had discussed the delay at the previous meeting, and Joe did not feel that it needed to be brought up again'.
"They at least have a start here, but there is definitely some work that need to be done on it," said Brewin.
"And I guess we need to step up and make sure that they are aware of (the needed changes) ."
Council accepted the minutes of the meeting for information.