Possible Unite the Right movement continues to be probed
Posted on April 6, 2017 by Vauxhall Advance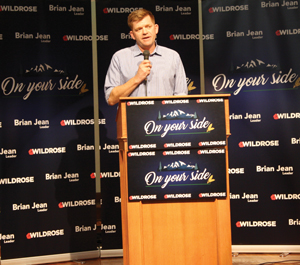 (Photo by Stan Ashbee) UNITING MESSAGE: Alberta Wildrose Party leader Brian Jean and Little Bow MLA David Schneider were on hand at a town hall meeting in Coaldale last week with Jean updating supporters on the Unite The Right movement with the Progressive Conservative Party.
By Stan Ashbee
Southern Alberta Newspapers – Coaldale
"I'm going to be listening," said Brian Jean, leader of the Alberta Wildrose Party, prior to a Town Hall meeting held last week in Coaldale at the Gem of the West Museum.
"I'm going to be listening to what Albertans want to do and consult with them on a path forward for the Wildrose Party, for the Progressive Conservative Party and the object of unity in Alberta," he added.
Jean has been travelling across Alberta for the past 20 months, since he first got elected. Over the last four months, Jean noted, he's been out on the road talking and listening about unity.
But over the past two months especially, he added, he's been asking specific questions on unity and a path forward.
"And how we should approach it, what people expect and whether or not they're in favour of it," Jean said.
According to Alberta's Leader of the Opposition, there is a general consensus and people are very excited about the opportunity to beat the NDP.
"We want to make sure the NDP are only here for one term and no more. They're very excited about that and they see the best option to do that is to have one party consolidated on the right with a single consolidated movement going forward," he said.
Jean added the two parties had the opportunity to appoint five people from each side.
"Jason Kenney appointed five people. What I did is I held elections for four of them — two from the executive committee and two from the MLAs and then one member's a lawyer that's appointed by me. To work for the members, protect the members and communicate with the members," he explained, adding the group was supposed to meet recently to talk about the path forward.
"They are called the Unity Discussion Group, and the idea is to talk about how we can have unity and what major issues need to be dealt with on this unity discussion and how we get to the point  where we can put it to the membership," he said.
Jean said Wildrose members are in charge of the process 100 per cent.
"We will make sure we are transparent and accountable to our membership and we will put the question to them on what they will decide for the future. I'm hoping they will decide the path they want to choose. We will have possibly a new government in Alberta after the next election, as a result, with a new party that's unified moving forward," Jean said.
Little Bow MLA David Schneider presented opening remarks at the Town Hall Meeting and introduced Jean to the local Wildrose supporters and others in attendance.
Jean also made an appearance in his campaign run in Enchant last week, updating residents on unity talks.