Federal government has yet to spend $500 million rural broadband fund: Shields
Posted on May 4, 2017 by Vauxhall Advance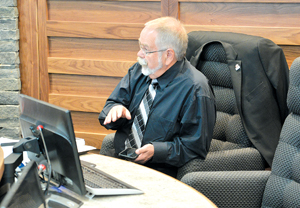 ADVANCE FILE PHOTO.
By Trevor Busch
Vauxhall Advance
tbusch@tabertimes.com
Accessing rural broadband Internet has been a topic of some concern for Municipal District of Taber council, and recent decisions at the federal level appear to be closing in on making this a reality.
"So the government has just rolled a number into the next year and the next budget of $500 million," said Bow River MP Martin Shields, speaking at a round-table discussion with M.D. council last week. "They've rolled it over from another year, and haven't spent it."
Reeve Brian Brewin pointed out that with the Canadian Radio-television and Telecommunications Commission (CRTC) decision to declare broadband Internet a basic service, this should mean good news for rural residents in the riding.
"With the new CRTC decision it has been mandated, has it not?"
Shields suggested that while the decision from the CRTC was needed, it doesn't mean federal infrastructure dollars will start flowing tomorrow.
"I hate the CRTC, but that one I liked. But it's two years before that goes into effect to get money. And they haven't spent the $500 million yet either."
The federal government also needs to revise their interpretation of what 'the last mile' actually means for rural Internet customers, such as farm residences.
"That we keep kicking at, the 'last mile' they keep saying. It's phrased as 'community', and that's the stumbling block."
Brewin suggested communities on the list must currently meet a series of criteria to be considered 'isolated'.
"Isolated communities, I believe. You have to be on this list of 'isolated communities' in order to rectify, and that was the concern. Retlaw was on there. I think there's only two in the entire M.D. of Taber."
While connecting isolated aboriginal communities might be important, Shields wanted to make sure rural Albertans won't be forgotten when federal funding comes calling.
"When they talk about it, it's all of those rural aboriginal communities to the north. That's what comes up, we need to get those connected. What about us down here?"