M.D. fire department aiding Waterton efforts
Posted on September 14, 2017 by Vauxhall Advance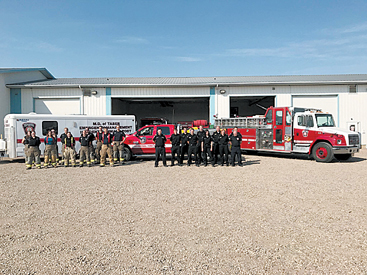 By Cole Parkinson
Vauxhall Advance
With fires still raging around Waterton Lakes National Park, the M.D. of Taber Regional Fire Services continue to help combat the flames to keep the townsite in tact.
Brian Schafer, fire chief for the M.D. Fire Services, phone called into the M.D. of Taber's council meeting on Sept. 12 to provide updates to their situation as well as answer any questions that the board may have had.
Since dispatching on Sept. 10 the squad has had been working tirelessly and the fire chief reports that their hard work has been paying off as they have tackled their objectives so far.
"Our Task Force One as we're calling ourselves was very successful, we completed all of our assigned tasks and no property losses in our sector of our responsibility. Anywhere we were, we were able to save things in the Waterton townsite so good job done by our crew," said Schafer.
"Crew is doing good, morale is good, they're being looked after, they're being fed and watered and they're staying at the Bayshore Inn when they could get some rest."
The fire crew didn't go empty handed though as they brought equipment and vehicles to help fight the rapidly advancing fire.
"We have a duty truck there, we have the M.D. incident command trailer there as well and that was taken to haul all of our stuff up there for 10 people and some extra supplies, we also have a wild land up there and the engine as well. The wild land has been in charge of spot fires from the embers that have been floating down through the air landing on grass or landing on a roof with wood shingles, they've been putting those out and foaming down the properties to stop the embers when they hit the roof," said Schafer. "I believe it's Forestry that is supplying us with the fire fighting foam so we haven't had to use any of our own supplies from the M.D. regional fire service, it has all been their product."
The first crew was sent out without much warning and has had many sleepless nights but reinforcements are on their way.
The original 10 firefighters will have a chance to make their way back home to get some rest and after what they've had to deal with in Waterton the plan to change was pushed forward a day.
"Our original plan was to replace these guys on Thursday (Sept. 14) because of what has happened in the past 12 hours or so but we're moving that ahead and we are making plans and putting together the final pieces of our next 10 that are going to go down and we're going to relieve them tomorrow (Sept. 13) so they can come home, they've had very little sleep throughout the night because of what was happening," said Schafer.
The turnaround between crews will be very quick due to the obvious need of men to combat the flames and Schafer says that the convoy with the new crew will be headed back as soon as possible.
"I'll be leading the next crew down and we're meeting at the MDFD hall in Taber and we'll assemble there.," said Schafer.
"We're not taking any more apparatus, we're just going to take CR51, which is my duty truck and a couple of M.D. trucks to transport the fresh 10 down to Waterton and then those vehicles. The duty truck from there will come home with the two M.D. trucks and transport the crew back to Taber. From there we will debrief our crew that was there and get as much information out of it as we can for learning experience for the next time we are called into a situation."
Midway through the meeting though, word was passed that First Student Bus rental would provide bussing to the 10 fresh firefighters and their equipment to Waterton while also bringing back the first crew at no charge.
This time around, all five fire services under the M.D branch will have firefighters travelling to Waterton, because of the rush in the first go around not all were able to provide people.
"The second crew that's going there will have representation from I believe all five departments, so the first time we went it was such short notice that they couldn't plan around and now with some notice we knew this was coming and would have to be replaced so we've actually had these plans in place for a day or two already," said Schafer.
With the chance of the fire continuing for a long stretch of time, the council had questions on how long the fire department could keep the rotation up.
Schafer is confident that they will be able to sustain it for a while due to the breaks that they have scheduled.
"We should be able to (keep going), if this crew goes from tomorrow till Saturday (Sept.16) we'll have some fresh bodies, people who have went once already can return as well, giving them four or five days off to let them recoup themselves and I'm sure they will want to get right back out to it to help save what's going on out there."
With fire safety on everyone's mind and the dry conditions continuing in the M.D, a full fire ban has been put in place across the county.
"We are processing and implementing a full fire ban in the whole M.D of Taber and I've also talked to Town of Vauxhall CAO Cris Burns and Village of Barnwell CAO Wendy Bateman and they will be following our lead. Once we get all of the details finalized here we will send it out, we'll update our Facebook page but it is going to be zero fire allowed in the M.D, Vauxhall or Barnwell, that should hopefully protect a little bit more of what's happening. In the last week here we have actually had two fires and both were caused by burning barrels that had screens but weren't put on, one was just grass and a little bit of a yard and the other one unfortunately consumed somebody's shop, so we need to limit the risk now because if that gets down Highway 36 anywhere that's dry and the wind comes up we're going to have a big problem on our hands," said Schafer.
With the rotation of fire fighters going to and from Waterton, another question arose as to how many firefighters would be around in case fires sprang up in the area. Around 40 volunteers are available and the chief says that number can fluctuate throughout the day depending on availability.
"People come and go throughout the work day and are out and about with their job in the day time but will return so that number usually increase at mid afternoon to early morning again so we should have more than that later on in the day," said Schafer. "Kinniburgh Spray offered their services so with them they are always on our stand by list and part of our mutual agreement so they will be contacting others."
The board members on the M.D council were quick to pass on their thanks to those who had been in Waterton and those who would be making their way over very soon.