Miyanaga hoping community involvement includes politics
Posted on October 5, 2017 by Vauxhall Advance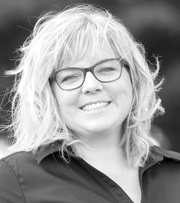 COUN. TAMARA MIYANAGA
By Greg Price
Vauxhall Advance
Always being community minded to helping bridge the gap in the social safety net, Tamara Miyanaga has decided to take her involvement up another level and run for political office.
Miyanaga is campaigning to earn a seat for Division 4 (Northeast of Taber) for the Municipal District of Taber in the upcoming municipal election.
"The timing was perfect for my family. My daughters are all grown and for me I've been waiting to take it to the next level," said Miyanaga. "I've always done social activism at a local level and some political things beyond that. But I felt I should put my money where my mouth is and take an active role in politics. I'm entering the arena not because I have political aspirations, but simply for the betterment of my community."
Regardless of how the dust settles after the final polls in the Oct. 16 election, Miyanaga's level of social activism has already been impressive.
Involved in the Taber Food Bank since its inception 15 years ago helping promote events, the organization just recently concluded its fundraising duck race and community-wide food drive.
"I'm really lucky to have a lot of community connections so we can bring volunteers and people are now looking for these events," said Miyanaga as the food bank also does a Stuff A Bus campaign along with having a big presence at Cornfest. "We have a strong board there, but my role isn't necessarily client based, it's community based. I want the community not to forget about the food bank."
Miyanaga has also worked with St. Vincent de Paul for 19 years which is an emergency aid organization that is funded strictly by donations.
"It could help someone put a tank of gas in their car, pay their rent or supply furniture," said Miyanaga.
"We don't have a prescribed set of circumstances. It's a case-by-case basis."
Sitting on the Taber Hospital board for the last two years, Miyanaga noted it has given her an insight into medical funding and the need for private assistance.
"Funds are not being used to extend to other areas. There's Clearview Lodge, the senior's centre in Vauxhall, and Linden View. Not only is it servicing our hospital, but it's servicing where our family members are going for long-term care. To me that is really important," said Miyanga.
For every year her kids were in school, Miyanaga sat on parent council, along with helping out Communities In Bloom and Taber Cares projects. When the Taber area has hosted the Southern Alberta Summer Games, Miyanaga has been there as evident by her Max Gibb Award while also being named Taber Citizen of the Year in 2010. Miyanaga currently works with Victim Services.
Miyanaga has been attending M.D. of Taber meetings lately to get a feel of the structure and pulse of the issues the area has been facing, after her employment with Horizon School Division concluded in June where she had worked for 15 years. It has always been a passion for Miyanaga with how municipalities are run, having graduated with a Bachelor of Arts Degree in Urban and Regional Studies with a focus on sustainable land use and economic development, having sat on the student union. The long-time resident took an internship with the Town of Taber in the early 1990s.
"I've been looking at running for awhile now, but these last couple of years, I've watched the town (Taber) and the M.D. move further apart and I couldn't understand what was happening with that. I start attending joint meetings like  the fire departments, I've met with the reeve and some members of town council. I truly couldn't see what the breakdown was other than people not getting along," said Miyanaga. "I know there must be more to it, but my goal is to find more common ground. I want to see a lot of things keep moving forward in the M.D. There are a lot of communities in the M.D. and we should find a way to get along with each of them and move forward together. The way provincial government is going, you can't work in isolation. You have to figure out what co-operative goals are because it's going to be funding based."
Miyanaga admits people have wondered how she finds the time for all her pursuits. The long-time M.D. resident of 25 years has never been one to have idle hands.
"People have noted I already have a pretty full slate, but I am also a person who runs with a full slate. I like to do that, it's in my nature. I don't like to sit still for very long," said Miyanaga. "When you are doing social action in a community, it makes a very big difference. M.D. council gives me another avenue to try and figure out how we can make our social programs sustainable or supported. We look to the federal and provincial government for funding, the municipal government can have a lot of influence on how that funding makes its way."
There will be an all candidates forum for the M.D. of Taber elections on Oct. 11 at the Taber Public Library starting at 7 p.m. There are election races in Division 2 between Tom Machacek (incumbent) and John Turcato and in Division 4 between Ben Elfring (incumbent) and Miyanga. Also Division 5 between Bob Wallace (incumbent) and Jennifer Crowson.
"There hasn't been very many M.D. elections, so I hope people will take the time to go out and vote. Ultimately, I'm a big believer in the system so if people don't maximize their opportunity to vote, then the system doesn't truly exist," said Miyanaga.