Ridings changing with new boundaries
Posted on November 2, 2017 by Vauxhall Advance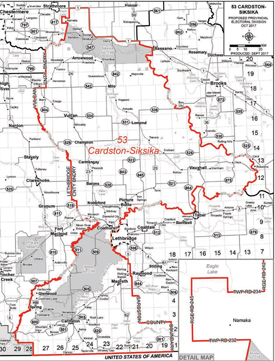 POLITICAL CARTOGRAPHY: The new proposed Cardston-Siksika riding incorporates Vauxhall within its east-central boundaries.
By Cole Parkinson
Vauxhall Advance
cparkinson@tabertimes.com
With the new proposed electoral maps now released, MLA's from across the province have had a chance to take a look at potential changes.
A large proportion of Little Bow riding is now called Cardston-Siksika as the borders have now extended down to the Town of Cardston. Meanwhile the Cardston-Taber-Warner riding will now include the Town of Coaldale and is just called Taber-Warner.
Little Bow MLA Dave Schneider had voiced his opinion throughout the whole process and has been happy with the changes that have been made in the released maps.
"Taber-Vulcan became a monster of a riding and at that time in that particular map, there were seven municipalities within that riding and five of them were carved up because of the boundaries. I complained about that at both meetings that natural boundaries should be used and respect municipal boundaries as well. I was surprised to see that they used a lot of natural boundaries in this new riding Cardston-Siksika. Bow River certainly, the Old Man, Waterton River and such, that's great because we got past some of my issues. I don't think they did it for me but I think everybody had the same complaints," said Schneider with a laugh.
The map released for Cardston-Siksika results in a population of 42,655 and is nine per cent below the provincial average population size.
Schneider attended multiple meetings in regard to new ridings and he says it was obvious what stats were used to originally create the maps.
"I made presentations at both boundary commission meetings, certainly the first one was just talking about the variance. I think my variance was 17 per cent or something and that was the case in a lot of the Alberta ridings, I know that. But when we started looking at Taber-Vulcan it became clear the commission was now using pretty much one criteria to determine ridings, and that was population."
While the old riding map of the Little Bow riding featured the Siksika Nation, Cardston-Siksika will also now include the Kainai Blood Tribe.
With Siksika being one of the largest reserves in Canada, Schneider questions whether or not the decisions to include the Blood Tribe was based purely on the population.
"I think the Blood Tribe is the largest in Canada and I'm not sure Siksika isn't a close second or is second. At any rate, once again when you look at this you certainly follow some natural boundaries but now we are looking at a population that traditionally doesn't spend any time going to Alberta polls to vote. The Indian Act is pretty clear about trespassing on Native land and an MLA is supposed to have free access to his constituents which creates another problem. Obviously nothing against Indigenous people, they have lots going for them which is fantastic. Alberta is trying to include them in lots of things, it's just another one of those based on population which has been the argument," said Schneider.
"They've carved out two or three ridings out of rural Alberta so the cities can have more people in the house representing big centres. Is that where we need to be? Because at the end of the day the city ridings were well within six or eight per cent, the legislation of variance."
While the maps have been released to the public, that doesn't mean they are final as the government will still have a chance to discuss the maps as they move forward to the 2019 Federal elections.
"It will be debated in the house yet so we still have the opportunity to make some arguments and talk about it some more in the house. We'll see where it gets to from there. Maybe the NDP even has issues with it, I haven't got any idea but we'll see," said Schneider.
While the elections are still a few years away, Schneider says that nothing has changed even if boundaries have.
He still plans on running for MLA in the Cardston-Siksika riding.