Reynolds ready to serve Enchant area
Posted on November 9, 2017 by Vauxhall Advance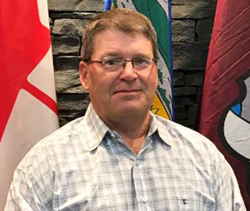 By Cole Parkinson
Vauxhall Advance
With Duff Dunsmore vacating the Division 6 chair in in the M.D. of Taber council, a new face can be seen taking over for the long serving councillor.
Murray Reynolds took the job after winning the seat by acclamation during the Oct. 16 elections after no one else put their name forward to run.
Reynolds never had any real aspirations to get into politics but when Dunsmore announced his retirement he figured he would give it a shot.
"I got talked into it," said Reynolds with a chuckle. "When Duff decided he was going to retire I thought it might be a good opportunity to get my foot in the door."
Reynolds has been a volunteer fire fighter for 35 years and has been on countless boards before being elected as the councillor for Division 6.
His experience from other boards is something he plans to bring to the table as he steps into the new role.
"I've been on lots of boards here in the Enchant area and I would be a good fit," said Reynolds.
Before Dunsmore made his exit, he had some advice for Reynolds which helped him ease into council chambers.
"He said 'it's nothing different from what you've been doing right now in these other clubs, it's just on a larger scale.' Other than that I just want to see our district grow and prosper if possible,"said Reynolds.
Reynolds attended his first meeting as a councillor on Oct. 24 as he joined five other brand new members. While he says he was warned about what to expect from the meetings, it was still a surprise.
"It was overwhelming I guess, I knew it was going to be busy but there was a lot more stuff than I was thinking. But as we get into it a little bit more every meeting gets easier and you get the grasp of things. I've been on boards before but we didn't deal with as many people but it should be good," said Reynolds.
Not having someone run against Reynolds allowed him to relax into the role immediately.
While that may have been positive, it didn't allow him to discuss the many issues that were brought up during the run into the election.
One of the bigger issues surrounding M.D. hopefuls was road maintenance throughout the M.D.
While Reynolds didn't have any particular concerns about the issue, he still knows the huge importance in keeping roads well maintained.
"I'd like to see and keep our roads in good shape because if you let them lag behind, pretty soon they're in shambles and that takes some time to rebuild. Good road maintenance and construction wherever possible which is where you have to work as a whole district. Everybody has to try and work together."
With council raring to go, Reynolds is excited to see how the four years go.