MP Shields voices concerns with cannabis legalization by federal government
Posted on November 16, 2017 by Vauxhall Advance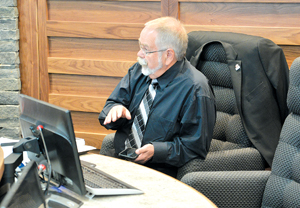 ADVANCE FILE PHOTO.
By Trevor Busch
Vauxhall Advance
With sights set firmly on a cannabis legalization date in mid-2018, changes to the Criminal Code of Canada by the Trudeau Liberals could prove problematic for law enforcement, says Vauxhall's Opposition MP.
"It's to do with marijuana in particular what they're doing, trying to update it so it would match marijuana being legalized," said Bow River MP Martin Shields.
"It is a challenge in the sense that we believe with the marijuana, they're going to legalize marijuana but there needs to be more time, police have said this isn't going to work in the sense of what they're changing the legislation to. It doesn't fit, there's just a mismatch with what they're putting through with the Criminal Code changes to what the legislation is going to be for marijuana, it's going to cause a problem."
Many troubling questions need to be addressed for Canadians and the law enforcement community before the nation will be ready for the rollout of a cannabis legalization regime, according to Shields.
"When we think about the speed — and many of the discussions we've had is the speed that they're attempting to do it just is too fast. Yes, you're a majority government, yes, you can do this, but there is so much saying that you need, with this whole piece in the sense of enforcement — the training of police, the challenges in court, the equipment they're going to have, the penalties in the criminal justice system, the mechanisms that they have to use," said Shields.
"The people who are crossing the border and say, 'Yes, I've used marijuana.' Whoops, it's illegal. You're never coming into the U.S. — now that needs to be dealt with. So there's a whole lot of pieces we believe with these legislative changes, the unintended consequences at the ground level are really going to be difficult to deal with."
Although pressuring the federal government to extend the July 2018 deadline for legalization while adding a lengthy period of decriminalization, Shields isn't confident the Liberals are listening to his party's pleas.
"We asked for at least a minimum delay of a year — one more year. We said look, everybody knows you're going to do it, what we would ask for in between is to go to decriminalization. If you're going to do it, change the laws and decriminalize it then, so we're not having people who are caught with it charged and becoming criminals. Between now and whenever, if you changed it to decriminalization that would save a lot of problems for a lot of people. So you can extend it and decriminalize it in the mean time. So we asked for a minimum of a year. If you're going to do it, at least give them another year — we'd prefer they don't do it at all — but knowing that they have the power to do it, we would suggest you need another year at least."
Targeting out-of-date and archaic charges to be eliminated from the Criminal Code of Canada, the Trudeau Liberals have also been making revisions in other areas not associated with cannabis legalization.
The House of Commons justice committee have recently been reviewing potential changes, but stepped into a theological hornet's nest in October over the proposed removal of Section 176, which makes it a crime to use threat or force to obstruct a clergyman or minister from celebrating a worship service or carrying out any other duty related to his job.
The proposal was met with an outcry from major religious groups, and has since been removed from the legislation aimed at modernizing aspects of the Criminal Code, Bill C-51.
Other, less controversial sections slated for removal by the federal government include challenging someone to a duel or fraudulently pretending to practice witchcraft.