Commons passes private farmers/ranchers bill from MP Shields
Posted on November 23, 2017 by Vauxhall Advance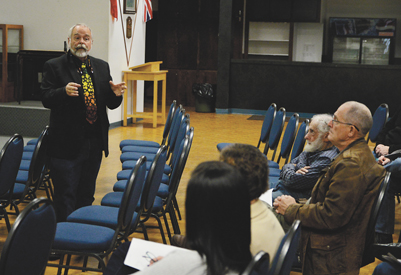 ADVANCE FILE PHOTO
By Trevor Busch
Vauxhall Advance
Recognizing that ranchers and farmers play a pivotal role in protecting the environment and in conservation was the main thrust of a private member's bill put forward by Bow River MP Martin Shields and recently passed by the House of Commons.
"I was absolutely humbled. I'm sitting as a backbencher, as a rookie in the Opposition, and I got unanimous approval of that piece of legislation," said Shields.
The motion, M-108 Contribution of Ranchers and Farmers, was introduced in the House on May 29 and recognizes the ranchers and farmers across Canada who are environmentalists and conservationists on their own private land.
The 'core objective' of M-108 is to help spread the word far and wide about the important role food producers play as environmental stewards.
For Shields, it is important that Canadian and international consumers know that buying Canadian agricultural products means supporting a fundamentally sustainable and safe industry.
The bill also seeks to highlight that through improved efficiency, conservation projects, environmental farm plans, and many other measures, farmers and ranchers are preserving the environmental integrity of their properties, and are doing so while producing more food than ever before.
As justification, key aspects of  the bill pointed out that no-till practices as well as efficient use of fuels and chemicals are common, that Canada's ranchers and farmers are at the forefront of environmental stewardship, reducing the impact of their footprint while still delivering high quality, nutritious food to Canada and the world, and all done while increasing production.
M-108 also encourages the government to support ranchers and farmers as they develop and implement conservation and restoration projects.
In developing M-108, Shields contended that federal legislators should recognize the commitment of ranchers and farmers in Canada to the environment, and that it should have have broad appeal to the rancher, the woodlot steward, the farmer, and all in the conservation sector.
"Having it pass unanimously, and people wanting to speak about it, that's an experience — it's just one of those things that was really, really humbling to have that happen."