Highway 3 twinning discussions continue
Posted on November 23, 2017 by Vauxhall Advance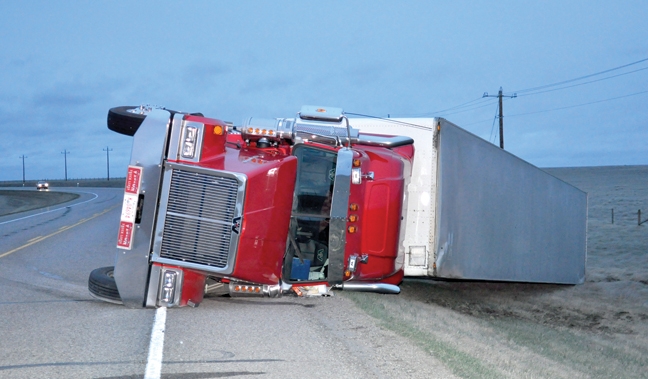 ADVANCE FILE PHOTO.
By Cole Parkinson
Vauxhall Advance
With the possibility of Highway 3 being twinned in the future, M.D. council is being given a chance to voice any concern they may have.
At their regular council meeting on Oct. 24, council members were given an update from M.D. staff who had been on the Highway 3 Twinning Technical Committee.
"Twinning goes from a mile east of the elevators at Grassy Lake to the west side of Barnwell. They will have options for bypassing Grassy Lake and Taber. Those are the options, part of that option might also include Highway 36 but I'm not sure what's happening there," said Jack Dunsmore, director of planning and infrastructure for the M.D. of Taber. "They're trying to get a freeway which means no stopping and no lights, 110 kilometres and you go."
The long term goal for Alberta Transportation would be to have Highway 3 reach freeway status, but according to Dunsmore there is still lots of work before they can officially declare it as such.
"Their aim is to have Highway 3 twinned from border to border bypassing everybody. Lethbridge, Coalhurst, Taber, Barnwell that's the aim of a freeway," said Dunsmore. "Eventually they want to make it freeway status. In order to have freeway status they'd have to have overpasses. At this point they're not looking at overpasses but they want to design the highway as such. In the future they could have the overpass and it would become freeway status, Highway 2 is freeway status."
The Town of Taber council has raised issue with the twinning as it could potentially bypass the entire town.
"One of the issues that came up was, and they told this at the last meeting with Town of Taber at the table. If they (Town of Taber) insist that Highway 3 comes through Taber, they need substantial right of way south of the rail road tracks they can't go north because of the track. They've got drawings showing the businesses that would no longer be there because they would need about another 100 metres," said Dunsmore.
The plan is for the twinned Highway 3 to look similar to the one located in Airdrie.
With the open house approaching, Dunsmore says that Alberta Transportation has been cooperative and easy to work with.
"To me they've done a very good job and Alberta Transportation is very receptive,"said Dunsmore.
While the council will be able to have their say on the matter, they realize that the project is out of their hands.
"They re going to ask our concerns and comments but at the end of the day this is a government project that is going through," said Brian Brewin, reeve for the M.D. of Taber.
The open house will talk place on Nov. 30 at 3 p.m. to 8 p.m. with both M.D. council and the Town of Taber council being asked to attend.
Along with the open house, Dunsmore said that the M.D. council will also have a delegation from Stantec Consulting and Alberta Transportation for questions and for the two groups to present their findings.