Vauxhall community members honoured with high school Wall of Fame accolades
Posted on November 23, 2017 by Vauxhall Advance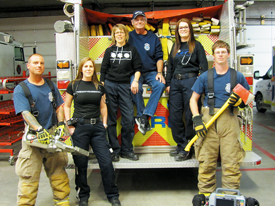 ANSWERING THE CALL: Vauxhall High School has seen many members of the Brouwers family go through its halls, and their service to volunteer firefighting will be recognized at this year's Wall of Fame ceremonies.
Vauxhall High School is having its 23rd annual fundraiser this Saturday in which its Wall of Fame recipients will be honoured.
A unique inductee for 2017 is a whole family with the Brouwers' family clan. Featured will be Vauxhall High School graduates Dennis (1973), Norma (1982), Brad (1998), Daryl (2003), Kelly (2006) and Miranda (2013).
The Brouwers' family journey into emergency services began in 1982 when Dennis joined the Vauxhall Fire Department. Norma followed in 2001 as an Emergency Medical Responder (EMR) for the ambulance service.
The legacy continued with all three of their children. Daryl joined the fire department in 2004, later obtaining his EMR in 2008. Brad Sawka joined the family in 2008, marrying Kelly and immediately signed up to be a firefighter.
Kelly was next to acquire her EMR in 2010, and last but not least, Miranda did the same in 2015. Norma, Kelly and Miranda have all since furthered their education to become Primary Care Paramedics.
After 33 years, of being a firefighter and deputy chief, Dennis retired in 2015. Brad, Kelly and Miranda have all since moved from the community.
Brad is taking a temporary sabbatical from fire service to further his education, while Kelly and Miranda continue to return to Vauxhall to serve the citizens of the hometown they know and love.
The high school is also honouring the artistic flair and fighting spirit of Matt Skretting as a 2017 Vauxhall High School Wall of Fame recipient.
Matt's photography endeavours started on his family farm when he was 12 years old.
What started as a hobby, quickly grew into a passion and Matt joined a local photography club.
There is where he experienced the impact that powerful photographs can have on people, viewing his art as a community builder and canvas for change.
Around this time, Matt also got his first job designing advertisements for a local grocery store.
Matt attended Vauxhall Elementary School and was instrumental in starting its annual Hops for Muscular Dystrophy fundraiser.
At 14, he became one of Canada's youth ambassadors for the disabled, attending a conference in Ottawa. Matt graduated from Vauxhall High School in 2007.
The following year, he and his family went on a trip down the west coast. It was on this trip the striking beauty of the planet became apparent to him and his love of road trips was sparked.
Rolly (Matt's caregiver) and Matt have taken his wheelchair many places wheelchairs shouldn't go — manure-filled corrals to questionable edge-of-cliff mountain paths, all in search of the perfect photo.
At the age of five, Matt was diagnosed with Duchenne Muscular Dystrophy. It is an incurable muscle-wasting disease, hence the need for his wheelchair.    
Matt went on to attend the University of Lethbridge and studied geographical information systems.
In 2011, Matt took a bad fall from his wheelchair. From this, he developed full respiratory distress, leading to double pneumonia which put him in the ICU. Doctors weren't sure if he would even make it through the night. Within six months, Matt had made an almost full recovery and returned to university. He graduated in 2013.
Matt continues to sell prints online, design websites, develop apps and try to be an example to Duchenne patients and the general public alike.
The fundraiser celebrating the Brouwers' family and Matt Skretting kicks off on Saturday at 6 p.m. at the Vauxhall Community Hall.