Questions remain on cannabis enforcement; Schneider
Posted on November 30, 2017 by Vauxhall Advance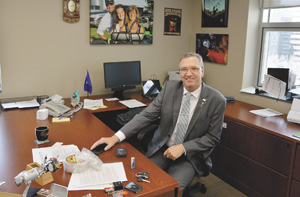 ADVANCE FILE PHOTO.
By Nikki Jamieson
Southern Alberta Newspapers – Coaldale
With less then eight months until cannabis legalization takes place, the Alberta government is taking steps to prepare the province for legal weed.
Bill 29: An Act to Reduce Cannabis and Alcohol Impaired Driving was given second reading reading and sent to committee of the whole earlier this month. Bill 26: An Act to Control and Regulate Cannabis was given first reading, and debate on it in the legislature is expected to take place this week.
Although the proposed legislation is still very young, and any potential amendments have yet to be made, Little Bow MLA Dave Schneider, a member of the United Conservative Party — noted that the "government is doing the best they can."
"It's been thrown at them — a date of July 1 — so they have to, it's up to every province to put rules in place that can control what is legal and what isn't legal I guess," said Schneider. "The cannabis framework is certainly on the right track."
"If we have to have legalized marijuana, certainly, it has to be controlled. The framework lays out how it can be sold and where it can be sold, and what the retailers will have to do."
Schneider did say that there were still a lot of questions revolving around enforcement. Referring to Bill 29, which calls for zero tolerance for driving while using cannabis, he acknowledged that it was one of the "first steps" government would need to take on the upcoming legalization, but is concerned over just how they will be able to enforce it come July 2018.
"It's the same idea as alcohol. There's some impairment with cannabis, as there is as alcohol, so a lot of the same administrative suspensions have been carried forward for cannabis, like the license suspension and vehicle seizure, and potentially, interlock devices," said Schneider.
"Certainly in the case of alcohol, you have to blow into this machine, and you have to pay all the money to get this thing installed, but you have to blow into that machine before your vehicle starts. No idea on how it works with cannabis."
Although saliva tests have been proposed for roadside testing, research has shown them to be unreliable, as cannabis can stay in your system for days after the initial use. Considering how there will be a zero tolerance attitude for new and novice drivers — even if you are at least 18 years old — it could potentially pose a problem.
"There's zero tolerance anyway, but we haven't got any way of testing it yet."
Alberta Transportation will also be enforcing a zero-tolerance rule for commercial drivers. However, as there is no way to efficiently test for it, it will be hard to enforce.
"It just seems like this legalization has just been rushed, and even law enforcement is quite concern that they won't have a way to test, at a roadside stop, for cannabis ingestion. That's been concerning to them, and they've brought it to the federal government over and over, and the government just says 'Nope, it's legal on July 1 2018, so the provinces better get ready'. What it means is that a lot more field sobriety tests, drug recognition experts, a lot more bodies at the end of the day," said Schneider.
"There is no budget for any of this stuff, we don't have any idea on what it's going to cost, in order to implement this stuff, but it's stuff that has to be done in order to keep the roads of Alberta safe.
"Sadly, until we have some way to test at a roadside check stop, some of this stuff can't even be implemented. It will be in the legislation, but that raises the question; what will we do on July 2, and we still don't have a roadside test, which would allow an officer to take a potential impaired driver away?"
He is a fan of Ontario's and New Brunswick's approach to the legal age limit for cannabis,  which has the two provinces raising the legal age someone can possess  or buy cannabis  from the federal proposed age of 18 up to 21. However, both those provinces have a legal drinking age of 19, compared to Alberta, who is one of three provinces with a legal drinking age of 18.
"All the rules, as far as fines, suspensions, basically administrative, license suspensions will be duplicate as what's going on with alcohol. It's basically the testing that's the issue at the moment."
The sale and use of cannabis in the province will be regulated through the Alberta Gaming and Liquor Control Board, a move that Schneider says "makes sense".
"They're already in charge of impairment for drivers in the province, and that's basically what they will be in charge of for impairment from ingestion of cannabis."
Although discussion had yet begun on Bill 26 as of the time of the interview, there are some questions around how online sales will be conducted.
Although private businesses will operate store-front retailers for the sale of cannabis, under strict government rules and oversight, the government will be in running the online sales of cannabis. However, Schneider says he hasn't heard of anything regarding how it will be ensured that someone buying cannabis from the online store is who they claim to be
"I don't know how the government intends to make sure that somebody who is underage isn't trying to purchase it online. That one I haven't seen any paperwork on yet, so I believe that one is in the works," said Schneider. "A driver's license? Good grief, but couldn't you just grab your dad's driver's license? I mean, I'm just theorizing here, but they'll have to determine how that they're going to make sure that the person actually ordering cannabis online is of age."
Further legislation relating to cannabis legalization, such as for taxation, will be introduced in the legislature in spring 2018.