Vauxhall helped by NAT van to aid patient transfer needs
Posted on December 7, 2017 by Vauxhall Advance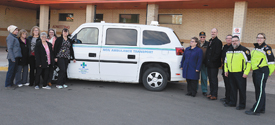 PATIENT CARE: Staff at long-term care at the Taber Hospital, the Taber and District Health Foundation, members of AHS and Frank's brother Victor Cemulini were all smiles last week when the NAT van arrived in memory of Frank thanks to his generous donation in aiding rural medical care in the Taber area. PHOTO BY GREG PRICE
By Greg Price
Vauxhall Advance
The memory of Francesco (Frank) Cemulini lives on thanks to his generous donation in helping aid rural health care.
Last week saw the arrival of a new wheelchair-accessible non-ambulance transfer (NAT) van to the Taber Hospital. It was purchased by Taber and District Health Foundation with the funds donated by Cemulini prior to his passing in June. Frank would utilize the NAT Van Service to the Chinook Regional Hospital in Lethbridge for appointments, having to call in the van from Raymond, where he thought it would be good to have one closer to home.
"If he was still around, he would have liked riding in that one a lot better than the others," said Frank's brother Victor with a chuckle, as Frank would have radiation treatments along with doctor appointments. "It's definitely more comfortable sitting in that back seat than the vans were."
The van is now in service alongside five other NAT vans currently in use in the South Zone of Alberta Health Services (AHS). NAT vans help to free up ground ambulance resources throughout the east part of South Zone by transferring low-risk, medically-stable patients.
The specially-equipped mini vans transport patients between health care facilities for specialist consults, diagnostics and procedures. Previously, ground ambulances would be used for these scheduled, low-risk patient transfers. NAT vans are staffed by emergency medical responders and are equipped with automated electronic defibrillators, first-aid kits, and sophisticated GPS and communications equipment. As well, the vans can accommodate up to four seated passengers, or two passengers in wheelchairs.
"This is unbelievably important. The generosity of the family impacts on various levels. Not just families who struggle to take loved ones to their appointments, it frees up ambulances for critical care in what is needed," said Kerry Van Ham, chairman of Taber and District Health Foundation.
Troy Linderman, manager of clinical operations for South Zone EMS with Alberta Health Services noted NAT vans serve a vital service with the volume of patient transports from one place to another with the increased technology and tests that are required.
"Populations are increasing in most communities and access to those services is very important. It is very costly for us to keep adding full ambulance resources to practitioners at large. On many occasions, people are just required to get there safely with an inter-facility transfer from hospital to hospital. This type of program is vital because we can add services to clients and keep those ambulance resources in every community."
Currently, there are six NAT vans in the South Zone, with two in Brooks, one in Raymond, one in Fort Macleod, one in Cardston and one in Taber as of last week.
"We are seeing a really good buy-in from the facilities and the physician group because patients prefer to sit sometimes and don't require an ambulance. Certainly, many clients feel going in an ambulance with two paramedics and all the equipment in there and how big the ambulance is, it's overkill and they don't feel comfortable," said Linderman. "Projects like this help us keep the resources that are needed in the community. Our emergency call volume is increasing as well in our communities and it's not sustainable to keep adding ambulances. Adding vehicles like this with attendants and providing support for these types of clients is vital."
NAT vans have been operating in South Zone since 2013 and there are 23 NAT vans in service across the province.
"The NAT vans provide an appropriate level of care and service for thousands of patients every year. They also keep fully equipped ambulances and Emergency Medical Services (EMS) crews available in the community for patients who need a higher level of care," said Tony Pasich, director of EMS for AHS South Zone. "AHS EMS is always looking for ways to improve the patient experience and to use health care resources as efficiently as possible. The new van helps us achieve both goals. For patients who are medically stable, capable of sitting in a seat, and who don't require oxygen or an IV, NAT vans are a safe and comfortable way for them to get to their destination."